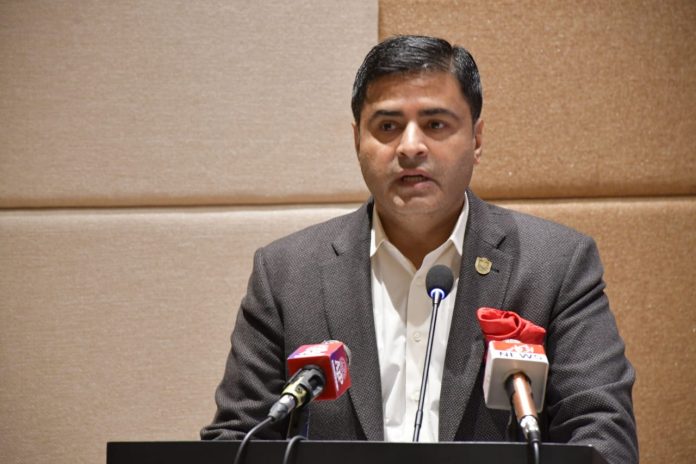 Islamabad. April 9 (APP): An event named Barkat Sahar was organized in collaboration with Islamabad Chamber of Commerce and Industry and Serena Hotel, Islamabad, in which prominent businessmen and industrialists of the city participated. . On this occasion, donations of Rs 2 crore were collected for Pakistan Sweet Homes. Addressing the ceremony, President of Islamabad Chamber of Commerce and Industry, Ahsan Zafar Bakhtawari, announced the donation of 50 kanals of land to Pakistan Sweet Homes in Chakwal so that the organization can establish a center for orphaned children in this area as well.
He paid tribute to the patron of Pakistan Sweet Homes, Zamard Khan, who has devoted his life to the welfare and welfare of orphans. He said that Zamrad Khan is raising orphan children like a father and providing them with education and training which is a great service. He emphasized that philanthropists including the business community should continue to cooperate with Pakistan Sweet Homes so that this organization can take better care of the orphans and play an active role in making them useful citizens of the society.
He thanked the Chamber's Senior Vice President Fad Waheed, Vice President Engineer Azhar Islam Zafar and the businessmen, industrialists and philanthropists for generously donating to Pakistan Sweet Homes and expressed his determination that the Chamber will continue to contribute to this noble mission in the future. Pakistan will continue to cooperate with Sweet Homes. Speaking on the occasion, the Patron of Pakistan Sweet Homes Zamard Khan thanked the members of the Chamber and the philanthropists for their full support for the welfare of orphans. He donated 50 kanals of land in Chakwal for Pakistan Sweet Homes. He also thanked the President of the Chamber Ahsan Zafar Bakhtawari for making the announcement and expressed his determination that he would soon start the work of building a center of his organization on this land.
He said that with the grace and grace of Allah Almighty and the support of philanthropists, Pakistan Sweet Homes is developing day by day, which has established centers in many areas of the country where thousands of orphans have been provided care and education. He said that with the support of philanthropists, the first cadet college in the history of the world has been established for orphans on GT Road in Sohawa on an area of 80 kanals, in which hundreds of students are currently studying. He said that their aim is to make the children of Pakistan Sweet Homes proud citizens of Pakistan so that they can not only play an active role in the development of Pakistan but also make the country proud. He said that ICCI has always cooperated with Pakistan Sweet Homes and hoped that this tradition would be maintained in the future.
Secretary General of United Business Group Zafar Bakhtawari said in his address that Zamard Khan is performing a great humanitarian service because he has created a revolution in the society by establishing an institution like Pakistan Sweet Homes for the support and education of orphans. However much it is appreciated, it is less. He said that in recognition of the great services of Zamard Khan, he has been awarded the Hilal Imtiaz and expressed the hope that the day is not far when Zamard Khan will be awarded the Nobel Prize, which will make Pakistan proud. will
The news is published by EMEA Tribune & Associated Press of Pakistan