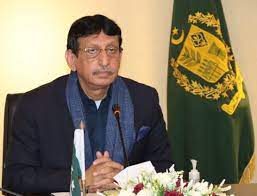 Karachi. May 26 (APP): Federal Minister for Information Technology and Communication Syed Aminul Haq has said that an agreement has been signed with Google for 45 thousand scholarships, which will increase to 4.5 lakh next year, while the scholarships given 40% will be women's share. The Google company had earlier given only 15 thousand scholarships last year, but the IT Ministry increased it in consultation. At a cost of 1.6 million dollars, a building for gaming and animation has been constructed in NED from where this industry will be promoted.
He expressed these views while addressing the start-ups conference held at Korangi Association of Trade and Industry (Kati) on Friday. Kati Deputy Patron General Zubair Chhaya, Senator Abdul Haseeb Khan, Senior Vice President Nighat Awan, Standing Committee Chairperson Maheen Salman, Administrator Korangi Sharif Khan, Former President Saleem Uzzaman, Masood Naqi, Razzaq Hashim Paracha, Ehtishamuddin, etc. Experts from universities, National Incubation Centers, students, teachers and start-ups participated in large numbers.
Federal Minister Aminul Haque further said that the IT Ministry is working on the vision of 2050. So far the investment in Pakistan till 2020 was 75 million dollars which increased to 373 million dollars in 2021. Similarly, after the efforts of the Ministry, the regulatory duty on mobile has been abolished from March 30. The Federal Minister for IT further said that when he took over the ministry, he immediately formulated a mobile phone manufacturing policy to set up a mobile manufacturing industry in the country and within a few months, the production of mobile phones started.
In this regard, 70 new projects were started at a cost of 75 million. He said that till 2019 there were 16 crore active SIMs in the country and now this number has increased to 20 crore in 2020. Similarly, 7 crore people had access to broadband, which has increased to 12.5 crore. Syed Aminul Haque said that when the Ministry of IT took over, there were 5 incubation centers working in the major cities of the country, the number of which is It increased to 8 in 3 years.
He said that our focus is on promoting startups and gaming and animation in the country. Earlier, former chairman of Kati, Senator Abdul Haseeb Khan, said that entrepreneurs and start-ups are working very hard, but today there is no need for heavy investment for start-ups. He said that research and development has an important role in IT. Right now startups are doing a great job which is needed in the industry.
Zubair Chhaya, deputy patron of Kati, said that the cost of production in Pakistan has increased a lot while start-ups in the country do not have the facilities that are available in developed countries. He said that when Federal Minister Aminul Haque took office, the IT exports were at the level of 1 billion dollars, but at the end of the last financial year, exports of 2.6 billion dollars were recorded. He said that although it is welcome that Pakistan's IT exports have increased, the neighboring country's exports last year were $149 billion, which is much higher than Pakistan's.
Addressing the ceremony, the Chairperson of the Standing Committee, Maheen Salman, said that our effort is to prepare such curricula in professional educational institutions, which are badly needed in the industry. Earlier people used to get a large number of degrees but they didn't get jobs. Now efforts are being made to provide professional training according to their needs in consultation with the industry. Maheen Salman further said that the startups that exist today were only in the form of projects last year which have successfully launched today.
Nighat Awan, senior vice president of Kati, said on the occasion that our government is requested to abolish the duty on the machinery and products used in the IT sector so that the IT sector can expand in the country. Anwar Khan, the founder of Pak Angels, Ahmed Uzair and Hasan Syed, the founder of Pakistan Aspire also spoke in the event.
The news is published by EMEA Tribune & Associated Press of Pakistan