The escalating "Corona" injuries in China push economic activity to the "cliff"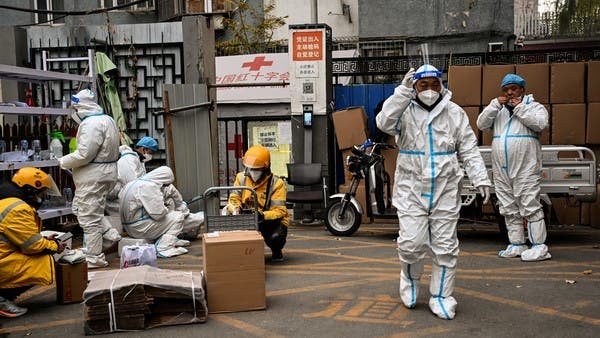 The latest wave of coronavirus infections in China has led to people confining themselves to their homes, as well as an apparent slump in travel and economic activity, according to the latest data on new cases.
After dropping the "zero Covid" policy in China , more cities were hit by a wave of infections out of control in the past week, which led to crowded hospitals and queues in funeral parlors, according to what was reported by "Bloomberg" agency, and Al Arabiya.net viewed it.
This new spate of infections has kept people in Beijing, Shanghai and elsewhere from going out, although workers in some places have been told to return to work, even if they have the virus.
Several measures of transportation fell, including traffic congestion in major cities, subway use and the number of domestic trips. In recent days, the number of subway riders has declined in cities including Shanghai, Guangzhou, Shenzhen, Xi'an and Nanjing as the number of infections soared, while in Beijing, one of the cities that witnessed the early infection wave, subway use has stabilized and increased slightly.
Congestion levels in 15 major cities were 56% lower than the level recorded in January 2021, the criterion used in an index compiled by BloombergNEF based on traffic data on Chinese search engine giant Baidu Inc. This is worse than during the Shanghai lockdown. And other cities in the spring.
peak current wave
For his part, Chen Chen, chief economist at data consulting firm MetroDataTech, predicts that the current wave of infections will peak between mid-December and late January for most cities, based on analysis of online keyword searches.
Activity in factories is likely to decline in December as well, according to the Emerging Industries Purchasing Managers' Index (EPMI).
The EPMI, based on surveys of companies in areas such as green technology and new energy vehicles, fell to 46.8 this month, the lowest level since April and below the 50-point threshold that is considered evidence of deflation.
The sudden increase in domestic flights prompted by reopening appeared to be short-lived, as people quickly reduced travel in the past week. The number of flights on Thursday fell to 42% from 2019 levels, according to interim data from Chinese flight data company VariFlight.
More moviegoers
Cinemas and film companies have suffered from closures and restrictions due to "zero Covid" policies throughout the pandemic, but are now seeing their first significant improvement in box office revenues since the 7-day public holiday at the beginning of October, despite an increase in COVID cases.
The average daily box office rose to more than 50 million yuan ($7.2 million) from 17 million yuan two weeks ago, according to data from online ticketing platform Maoyan Entertainment.