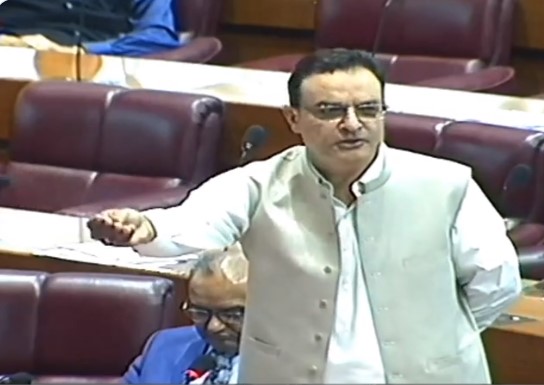 Islamabad. April 6 (APP): Chairman of Public Accounts Committee Noor Alam Khan has said that everyone should be held accountable, Supreme Court judges should also be audited, the Public Accounts Committee exposes cases of corruption. But the Supreme Court issues an injunction.
Speaking in the National Assembly on Thursday, Noor Alam Khan said that the leaders of the parties inside and outside the House are requested not to harm the federalism of Pakistan. However, in the last one year, there has been no oppression against the Pakhtuns, they are worried about the elections, but they are not worried that the poor are not getting flour, the economy is being destroyed, the roads are being blocked and chaos is being spread due to which IM F has also started to grow.
Think for the poor people and the economy of Pakistan and end the chaos. I have been in PAC since 2010. The only institution is the Supreme Court of Pakistan which is not audited by the Public Accounts Committee. Under which law they are not conducting audit, under which law the salaries are being increased, under which law the officers are called and forcibly given plots, we called the CDA and asked them to tell which privileged class Those who got the plots do not include members of parliament and cabinet members. He said that they want to audit the Bhasha Dam Fund where the people and institutions of Pakistan have given funds. What is the law that they are afraid of accountability, I am accountable every day, we are not afraid of accountability, the people of our constituency hold us accountable, including NAB, FIA, FBR, Election Commission. There are accountability everywhere.
He said that tell me how Imran Khan built 300 kanals of land, where did he get the bullet proof vehicle, who built the new house in Zaman Park. He said that the Supreme Court issues an injunction on the number of cases of corruption that we catch in the PAC, the Public Accounts Committee sent back the One Constitution to the CDA, BRT, Chairman NAB with reference to Billentree. admitted that there are billions of rupees in the name of each person on thumb identification, why don't they take action on it, ruled Khyber Pakhtunkhwa for 10 years, how many ministers were arrested during this time, 1.5 million beds were bought in government hospitals, There is a case of three billion rupees in the textbook board, but no action has been taken by NAB.
The news is published by EMEA Tribune & Associated Press of Pakistan