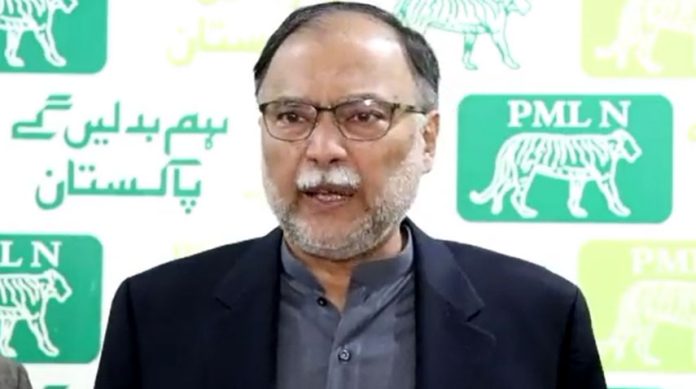 Islamabad. April 30 (APP): Minister for Planning, Development and Special Measures Prof. Ahsan Iqbal has directed the provincial governments to implement the seventh population and housing by May 15 in the areas where the population growth is not in accordance with the general demographic trends. Field verification/coverage of census should be completed and field operations should be stopped in all areas showing natural trends.
Professor Ahsan Iqbal emphasized that Prime Minister Muhammad Shahbaz Sharif has taken strict notice of the repeated expansion of the field enumeration activities of the 7th Population and Housing Census and therefore targeted verification and enumeration operations in sparsely populated areas. Go where the gap has already been highlighted using the digital system developed by the Pakistan Bureau of Statistics (PBS) for the first ever digital census.
He emphasized that special efforts should be made to combat the problems of low coverage and low coverage in Punjab, Sindh, Khyber Pakhtunkhwa (KP) and urban areas of ICT. He expressed these views while presiding over a follow-up meeting on Sunday in connection with the 12th meeting of the Census Monitoring Committee and a meeting with demographers and political parties on the field work of the 7th Population and Housing Census. was considered to be completed by May 15.
Ahsan Iqbal said that a uniform policy based on data should be adopted to finalize the field enumeration in all provinces, closely monitoring the field work and sharing the progress on a daily basis with the PBS headquarters. should be done so that the gap can be filled and the process can be completed successfully. He added that along with under-counting, the digital system has also identified over-counting and cases where the census process has been manipulated or tampered with resulting in abnormal trends. . The Federal Minister strictly instructed the concerned teams to deal strictly with such incidents to avoid such incidents in future.
He once again urged Election Commission of Pakistan to complete the exercise of timely submission of data on May 15. According to a press release issued by PBS, Secretary PD&SI Syed Zafar Ali Shah informed PBS and stakeholders to redouble their efforts to complete the exercise by May 15. Adopt a uniform policy in all blocks across the country to complete the exercise. Chief Census Commissioner Dr. Naeem Al Zafar gave the latest updates and recommendations to complete the process in time. He requested that the cooperation of the provincial governments in monitoring and close supervision of field exercises and the cooperation of law and order institutions to provide security to the enumerators is very important to remove the gaps and timely completion of this exercise.
. He added that efforts need to be made to ensure full coverage of restricted areas, collective housing and gated communities. Daily progress is shared with PBS head office and low coverage and civil society and stakeholders. No complaint of coverage to the concerned provincial governments will play an effective role in prompt decision-making and elimination of extensive field enumeration activity. It was decided in the meeting that in the field operation, special attention should be given to verification/coverage of remaining areas of Punjab (33 districts), Sindh (8 districts), KP (9 districts), Balochistan (3 districts) and ICT. will go
The news is published by EMEA Tribune & Associated Press of Pakistan