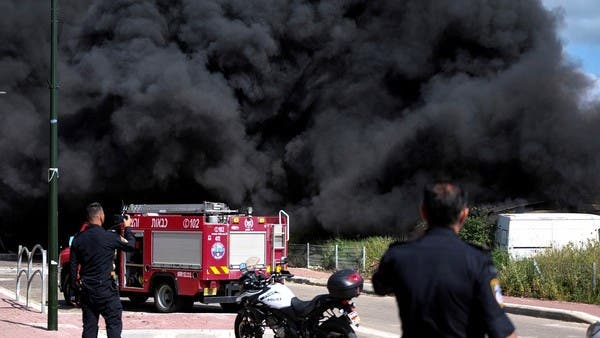 Israel on Thursday blamed the Palestinian group Hamas for more than 30 rockets fired from Lebanon, while Israeli Prime Minister Benjamin Netanyahu appointed a security cabinet to decide on a response to the biggest rocket attack from Lebanon since 2006. A meeting has been called.
Israeli Foreign Minister Eli Cohen said in his message on the social networking site Twitter that "no one should try us, we will take all necessary measures to defend our country and people".
The Israeli army says that 34 rockets were fired from Lebanon on Thursday. 25 of them were disabled by its Iron Dome anti-missile system. Israel's Ambulance Service says that one person has suffered minor injuries. The Israeli army has responded to these rockets by firing artillery towards southern Lebanon.
The tension in the border area between Israel and Lebanon has arisen at a time when the Israeli police have invaded the compound of the Al-Aqsa Mosque and tortured Palestinian worshipers during the holy month of Ramadan in occupied Jerusalem. After these raids, Israel is facing international pressure.
Hanozaki has not claimed responsibility for the rocket attack, which was fired from southern Lebanon. However, an Israeli army spokesman blamed Hamas. The spokesman said in a tweet that the party firing the rockets is Hamas in Lebanon.
Three Israeli sources say that Palestinian factions in Lebanon are being held responsible for the rocket attack, not Hezbollah, while it is also believed that Hezbollah may have authorized the rocket attack.
Tamir Hayman, the former head of Israel's military intelligence, said on Twitter that it was not Hezbollah's firing, but that it is hard to believe that Hezbollah did not know about it.
Meanwhile, Ismail Haniyeh, the head of Hamas, is visiting Lebanon. However, there was no immediate comment from the Palestinian organization. Neither was there any comment from the Lebanese army or Hezbollah.
Affiliates of Palestinian factions in Lebanon are living in refugee camps. They have fired sporadically into Israel in the past, but the border has been largely quiet since a war with Hezbollah in 2006. Hezbollah dominates southern Lebanon, which borders Israel, and has advanced rockets. is a collection of
The US State Department has expressed concern over the scenes of the Al-Aqsa Mosque, in which Israeli police can be seen beating worshipers during the raids, while the Zionist authorities say that the purpose of the police action is to target groups of young people who set up barricades inside the mosque. Had to remove.
Washington has also condemned the rocket attacks from Lebanon and earlier attacks from Gaza and said that Israel has the right to defend itself.