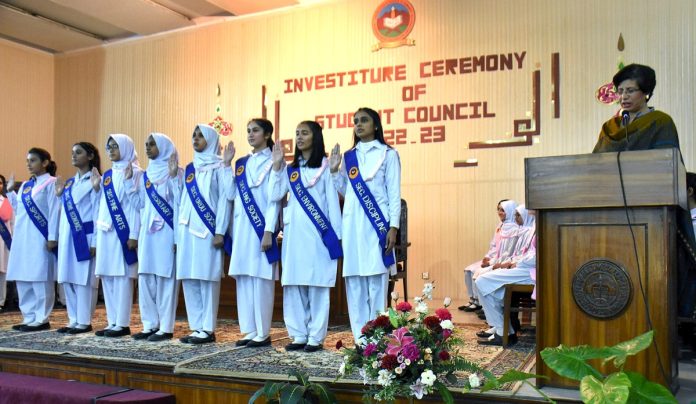 Islamabad. November 24 (APP): The swearing-in ceremony of the student council was organized in F Seven Two College, Islamabad. Principal Professor Fauzia Tanveer Shaikh presided over the swearing-in ceremony as chief guest DIG Higher Education Commission Amina Noor Malik.
In their address, the speakers congratulated the students and advised them to fulfill their responsibilities in a good manner and said that the role of women in the development of the country is very important, college students should play their role and respect teachers and parents. Note: President Rukh Sarandrat, Vice President Mahin Khan Jazal, Secretary Fiza Sohail, Joint Secretary Huda Khalid and Secretaries of Dramatic Information Technology Urdu English Fine Arts took oath of their responsibilities.
Apart from students with high position in curricular activities, awards were given to Naira Qadir, former associate professor of Pakistan Studies, Shaista Sheikh, Assistant Professor of Psychology, Humira Shabnam, Home Economics, Manza Aram, Lecturer in Zoology.