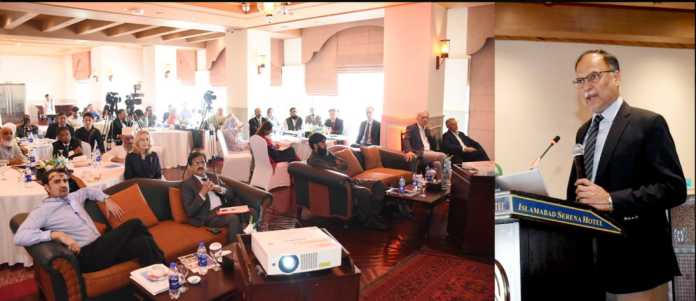 Islamabad. May 16 (APP): The Ministry of Planning, Development and Special Initiatives has constituted a special task force to review the pay scale system for recruitment of human resources (HR) in higher educational institutions. The objective of this task force is to develop a better pay scale system that will attract and retain high quality HR in educational institutions. It was formally launched on Tuesday.
On this occasion, Federal Minister for Planning Ahsan Iqbal said that the recruitment and retention of top talent in the higher education sector is an important factor in promoting the knowledge economy. He said that in today's era of innovation, education technology transfer and It plays an important role in advancing socio-economic development. He said that highly trained HR personnel are an important component of the innovation ecosystem, contributing to in-house innovation.
The federal minister said that the formation of the special task force indicates the government's commitment to address the challenges facing the higher education sector in Pakistan. and promote excellence and innovation in academia. A post-globalization era characterized by rapid growth, the rise of digital technologies, global value chains, and increased mobility of human resources, including the higher education sector. It has affected economies around the world. He said that to maintain competitiveness in the global educational and research scenario and to enhance the global position of Pakistan's higher education sector, it is necessary to have competent and highly qualified faculty and staff. As the current pay scales offered in sector universities do not meet expectations, introducing new competitive, performance and market-based pay scales will help attract and retain the best resources that will enable Pakistan to conduct research. and will be enabled to advance in the Academy.
It should be noted that currently, there is a lack of standardized pay scales in the higher education sector in Pakistan, with institutions following either the Basic Pay Scale (BPS) or their own pay scales. These variations in scales have created salary discrepancies, resulting in attrition, dissatisfaction, and conflict among faculty and staff. Moreover, this situation has adversely affected the quality of education and research in the country. Audit objections have also been raised on the separation from BPS, and several audit paragraphs are currently under consideration in PAC meetings. Implementing a new pay scale system will address these disparities and promote a fairer remuneration system for universities and HEIs. The new pay scale will be fair, transparent and reflective of the market rate while providing performance based incentives and rewards to high performers.
The news is published by EMEA Tribune & Associated Press of Pakistan