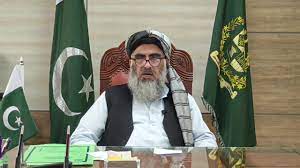 Lahore. December 3 (APP): Federal Minister of Religious Affairs and Interfaith Harmony Mufti Abdul Shakoor has said that minorities in Pakistan have complete religious freedom. When Hindus and Sikhs come to Pakistan to perform their religious rituals, they are provided with all facilities and pilgrims mention the hospitality of Pakistan when they go back to their countries, which is a clear proof of this. It is said that the minorities in Pakistan are completely free and their religious places are protected.
He expressed these views while presiding over a one-day conference titled "Interfaith Harmony and Contemporary Demands" at a local hotel here on Saturday. The conference was organized by the Ministry of Religious Affairs and Religious Harmony, Islamabad. On this occasion, Prime Minister's Coordinator for Religious Affairs Shabbir Ahmad Usmani, Chairman Mutukah Waqf Property Board Habib Rehman Geelani, Chairman Central Royat Hilal Committee Maulana Abdul Khabir Azad, Member of Islamic Ideological Council Allama Muhammad Hussain Akbar, Leader of Hindu Community Amrit Nath Randhawa, Sikh Community. Leader Maple Singh, Christian leader Bishop Yakub and a large number of leaders and scholars of other religions were present.
In the conference, Hindu Pandit Bhagat Lal received great applause from the audience by reciting devotional poems in honor of Bani Karim. Addressing the conference, Federal Minister of Religious Affairs and Interfaith Harmony Mufti Abdul Shakoor said that Islam is a religion of peace and security, the real lesson is humanity, our beloved Prophet came as a mercy to all humanity.
He said that it is important to thwart the nefarious plots of a few so-called liberal elements to defame religious people. A small group criticizes religions all over the world. It has to be done while the scholars should come forward in this regard. He said that there are people in all religions who are working for the promotion of religious harmony.
He said that a person cannot be forced to adopt a religion by force, but preference should be given to talking with reason, one cannot win someone's heart with a gun, take extortion from a non-Muslim, seize property. And harming it is forbidden in Islam, our Prophet ﷺ taught us to love and love humanity, in all religions the life, property and honor of every person is respected by all of us.
He said that efforts will be made to give scholarships to students belonging to minorities, efforts will be made to provide expenses for the marriages of destitute girls in other religions. The Federal Minister assured that efforts will be made at all levels for the maintenance and restoration of the religious places of the minorities.
He said that you are ours, we are yours, Pakistan belongs to all of us and we have to work together for its development and security. Play your role.