In view of the expected rain situation in Madinah, extraordinary arrangements have been made for the safety and security of the pilgrims in the Prophet's Mosque.
The General Department of Safety and Risk Response of the Security, Safety and Emergency Response Agency, which is responsible for the administrative affairs of Masjid Nabawi (PBUH), has taken additional measures for pilgrims during the rainy season to maintain the safety of pilgrims and worshipers as well as the safety of the Prophet's Mosque (PBUH). To ensure the preparation and implementation of contingency plans for inclement weather.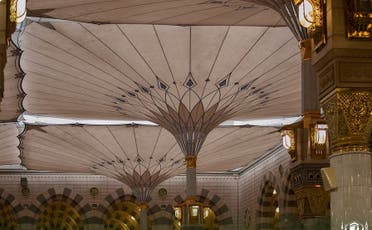 The management worked closely with various other departments providing services at the Prophet's Mosque. The carpets in the courtyards of the Prophet's Mosque were removed, the number of workers was increased, and additional equipment was provided to dry the outer floor of the mosque.
The administration along with the concerned department opened the umbrellas in the yard during the rain. All these services are part of the government's initiative to provide a peaceful environment for pilgrims to worship at the Prophet's Mosque.