Unusual tension is being seen in the Palestinian territories after the attacks of the Israeli police on the worshipers and the pilgrims in the Al-Aqsa Mosque and the rocket fire from the Gaza Strip.
On Wednesday morning, Israeli warplanes bombarded densely populated areas of Gaza.
Reuters reported that the Israeli airstrikes damaged the organization's military training center in Gaza City.
Attack on al-Aqsa compound
This action was taken after the Israeli army announced that nine rockets had been fired at Israel from Gaza, after which alarm sirens sounded in some municipalities in the border areas.
At the same time, the Israeli police attacked the worshipers during the Fajr prayer in the Al-Aqsa Mosque.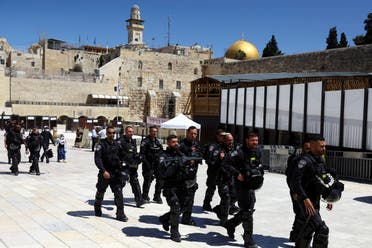 Jerusalem: Israeli army in Al-Aqsa Mosque
The police claimed that they acted under duress as "masked rioters" inside the mosque resisted arrest. They had, according to Israeli police, stones, batons and incendiary equipment.
Condemnation of Arab countries
After the attacks of the Israeli police on the Al-Aqsa Mosque, a series of protests have started in the occupied West Jordan areas, while the Arab world, including Saudi Arabia, Egypt and Jordan, strongly condemned these Israeli attacks.
Saudi Arabia has condemned Israel's 'blatant attack' on the premises of the Al-Aqsa Mosque, calling it a violation of international law.
On the other hand, Jordan's Foreign Ministry in Amman has also "strongly condemned the attack on the mosque by the Israeli police and demanded that the Israeli police immediately withdraw from the mosque."
The Egyptian Ministry of Foreign Affairs has "condemned this open Israeli aggression and said that many people, including women, pilgrims and pilgrims, have been injured inside the mosque due to this cowardly act."
The occupied West Bank and occupied Jerusalem have seen an increase in violence over the past year, and there are fears that tensions could escalate this month as the Muslim holy month of Ramadan coincides with the Jewish festival of Passover and the Christian holiday. Easter is also near.