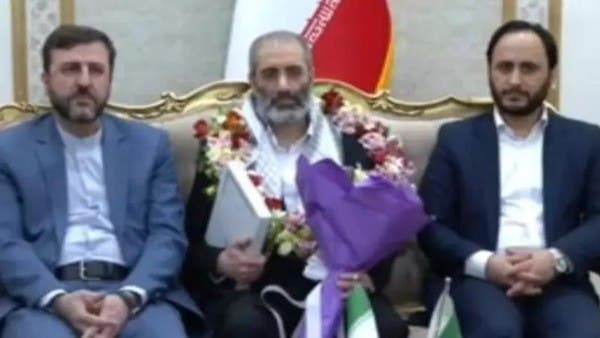 Iranian diplomat Asadullah Asadi arrived in Tehran after being released Friday under a prisoner exchange deal by Belgium. The first pictures and video of his presence in Tehran were revealed. Asadullah Asadi was sentenced by Brussels to 20 years in prison for terrorism.
Diplomat Asadullah Asadi was surrounded by a group of Iranian officials. On this occasion, Government Spokesperson Ali Bahaduri Jharmi and Head of Human Rights Committee in Judiciary Kazem Gharibabadi were also present. Asadullah Asadi, who has been in jail for years, was seen smiling in the video and was also carrying a bouquet of roses.
Iranian Foreign Minister Hossein Amir Abdullah and ministry spokesman Nasir Kanani had already welcomed Asadullah's return. Nasir Kanani said that Asadi was held hostage in Germany since 2018. It was a scenario based on a big American-Israeli lie aimed at damaging relations between Europe and Tehran.
On the other hand, Iran released Belgian aid worker Olivier Vandecastel. The Belgian activist spent 455 days in jail. He was arrested on February 24 and sentenced to 40 years in prison and 74 lashes for "espionage". When Oliver appeared on the steps of the plane to Belgium, he was very weak.
Recall that Asadi was sentenced to 20 years in prison in 2021 for "attempted terrorist murder". He was arrested in 2018 for planning to target an Iranian opposition meeting in France.
In July 2022, the Belgian Parliament approved a prisoner exchange agreement with Iran, and the agreement entered into force on 18 April 2023. It should be remembered that the Belgian government was heavily criticized for handing over Asadi. Opponents said allowing Asadi to return to Tehran was tantamount to encouraging state terrorism.