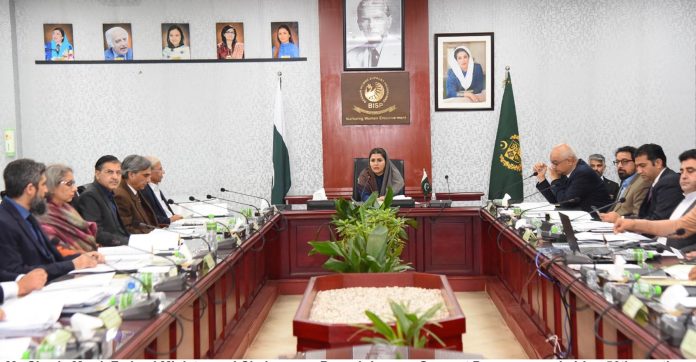 Islamabad. December 1 (APP): Chairperson Benazir Income Support Program Shazia Murri chaired the 56th meeting of the BISP Board of Directors in Islamabad on Thursday. The board approved the new mechanism for disbursing cash to BISP beneficiaries. Under the new system, eligible persons can get cash through an account opened in any scheduled bank.
The Board also approved the policy to include transgender women in the sponsorship program of BISP. Shazia Murri termed the adoption of the Transgender Policy as a major achievement of the present government and urged the members of the Board of Directors to use their position and influence to mobilize this marginalized community so that maximum number Transgender people can benefit from this policy. He also told the Board of Directors that under the Prime Minister's Flood Relief Program, cash assistance of Rs. 70 billion has been distributed to 28 lakh families for the flood affected people.
Shazia Murree appreciated the role of BISP and NADRA officials as well as partner banks who worked diligently during the distribution of flood relief assistance cash and said that more is still to be done for the relief and rehabilitation of the flood victims. Need. BISP Board meeting approves flood relief program and approves new method for deserving women facing difficulties in biometrics verification.
The BISP Board approved the independent functioning of the procurement wing, cyber crime wing of the institution and also took important decisions regarding other institutional reforms. The BISP board also approved a grant of Rs 20 lakh for employees who died on the job, Rs 20 lakh for Grade 1 to 8, Rs 50 lakh for Grade 9 to 16 and Rs 50 lakh for all BISP employees above Grade 17. A grant of 70 lakhs was approved.
The BISP board meeting chaired by Shazia Murri decided to send the proposal to the finance committee to increase the salaries and allowances of the employees of the institution. The board was told that the federal government has been revising the pay scales every year but the pay scales of the BISP employees have not been increased since 2019. I also decided to further improve the structure of the institution. Dr. Qaiser Bengali, Sania Rafat, Usman Hassan participated in the board meeting directly while Ashfaq Hasan Khan and Haris Ghazdar participated through video. Including Secretary BISP Yousuf Khan. NADRA, high level representatives of Ministry of Poverty Alleviation and Social Security and Finance and senior officers of BISP were also present in the meeting.