On the offer of talks by Tehreek-e-Insaf, the matter will go to PDM, press conference of Rana Sanaullah and Khawaja Saad Rafiq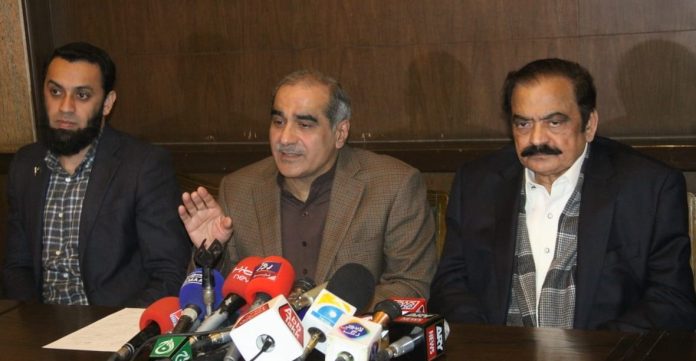 Lahore. December 3 (APP): Pakistan Muslim League (N) has taken a blunt stand on Imran Khan's conditional offer of talks, saying that the talks will take place without preconditions, threats, slander, and talks will not go together. We have to create an environment for negotiations, they need negotiations, not us, on the offer of negotiations by Tehreek-e-Insaaf, the matter will go to the PDM and the final decision has to be made there. We will not put obstacles in the way, forget that we will take their arm, try to stop them, if they want to break the assembly, break it, we will not be part of it, if you break the assembly, Asra you have to be,
Two provincial governments and two state governments are at your expense. If you create a constitutional crisis, we will not allow you to do so. God willing, there will not be any constitutional crisis in the country. will go, the assembly of Sindh, Baluchistan and the national assembly will remain.
A consultative meeting of the senior leadership of the party under the chairmanship of Pakistan Muslim League (N) President and Prime Minister Muhammad Shahbaz Sharif was held in Model Town on Saturday, in which Imran Khan's offer of conditional talks was reviewed in detail.
After the meeting, Federal Minister of Railways Khawaja Saad Rafiq along with Federal Interior Minister Rana Sanaullah, Attaullah Tarar and Malik Muhammad Ahmed Khan gave a media briefing. Khawaja Saad Rafiq said that PDM allies will take the final decision on what Imran Khan has offered for negotiations. Before discussing the threatening offer Imran Khan has made, it is important to look into the past.
When the first national meeting of the present government was held, the then leader of the opposition, Shehbaz Sharif, offered a compromise economy because the country's economy should not suffer any more setbacks. This offer was given by the united opposition, but Imran and his colleagues rejected it. He was made a joke, was made a spectacle of and was never taken seriously. After that, he was the ruler of the federation for four years. When it came to legislation on FATF and other sensitive issues and national interests, we did so at that time. Cooperated with the government but every time we heard taunts and NRO was taunted even though Imran Khan was not able to give NRO.
He was so full of hatred that he was the first Prime Minister who used to reach his seat by jumping seats so as not to make eye contact with the opposition and there was no question of salam dua, he did not greet anyone for four years. It was interesting to see, there was a strange pharaohism in it, such pharaohism had never been seen or heard, there has been martial law in this country, but it broke everyone's records.
His tenure ended with the constitutional democratic change in the country, since then Imran Khan, his facilitators and associates have started conspiracies, but they have failed every time, all the threats they have made have proved to be gibberish, we have no expertise in this. On the contrary, it is the scourge of nature, whoever throws someone's turban, even if he is unworthy and corrupt, every evil is present in himself, but if he imposes them on his opponents, then such a person is a victim of the wrath of nature, Imran Khan, Facilitator and his Colleagues are victims of abuse.
He said that we have had informal contacts with him in the past and it has happened more than once, the interesting thing is that these contacts are also made by himself and he is shy to tell and does not care to tell, even then he I told my friends that the decision has to be taken by the PDM, negotiations are never conditional, if conditions are imposed first, how will the negotiations take place, one-way traffic cannot run, this is your agenda, if the PDM decides, then their It will have its own agenda.
He said that some of our allies have serious concerns not to talk to them and not to give face saving but we also understand that the process of negotiation is a part of politics but everything is fine if Imran Khan is really serious then he should Two or three things should be understood, threats, slander, abuse and negotiations cannot go together, an environment for negotiations has to be created, negotiations are needed by them, not by us. It is their naivety, remove it from your mind, we are not contesting elections for the first time, whenever and wherever elections are held, we will definitely contest.
The request is that we can talk and take steps in the wider interest of the country, but for that we will first talk to the allies. He said that it is our considered position that assemblies are formed for legislation and governance, not for breaking up, every assembly should complete its term. If the ruler of the provinces and the two state governments wants to have an adventure, then do it, we will not put obstacles in the way, forget that we will hold their arm, try to stop them, if they want to break these assemblies, let us break them. Will not be a part of it, please refrain from making fun of people's mandate, it is like wasting country's time and energy.
Assemblies should complete their term and elections should be held on time. If you break the assembly, then you have to be homeless because you organize long marches and rallies at their expense. You do not come to Islamabad and take shelter where your governments are, think carefully.
He said that if there is a need to talk, there is no need to intimidate, contact formally, we will take it to the PDM table, if you talk seriously, you will give a serious answer, if you create a constitutional crisis. So we will not let you do that.
He said that every time they come to the assemblies, they throw away their resignations, we save them, when will politics come to them, they make fun of people's votes, we still accept their resignations. They are sitting. Imran Khan is advised to develop seriousness within himself, develop depth, you have been playing along with the facilitators, you have made this mess in politics, Pakistan cannot afford it.
He said that we have not told our decision, Imran Khan has spoken and put forward the point of view of Muslim League (N) on this, the power of decision rests with PDM. Learn to do, learn to offer the talk, they themselves have to fall into the trap they have thrown.
Khawaja Saad Rafiq said that we did not get strength from anywhere, the source of strength is Allah's Self. As far as worldly matters are concerned, he is Muhammad Nawaz Sharif.
In response to a question about the intervention of a third force to negotiate, he said that PDM has all the experience. We all can solve the issues by ourselves. He said with reference to the Full Court Commission on Imran Khan's allegations that the Prime Minister has written to the honorable institution in this regard, the decision has to be taken by him.
Regarding the economic situation, he said that this is due to Imran Khan's incompetents and cowardly colleagues who had no experience in state affairs. Their only mission was to make cases, create a false narrative of one crore jobs and five million houses. The claims they made were not even one percent fulfilled, we are going to complete the deal they left with the IMF and are negotiating but they conspired here too and said screw it up. , their thinking is that if we were to be in power then the country is,
They were pushing the country into the situation of Sri Lanka, it is not known that their mind is occupied by demons, if we are not the rulers, then the country of 22 million people can go wherever they want, now they will not sell their lies. This is a country of 22 crores, don't let it become an unlucky country, today it is difficult to run an institution, but they are trying to drag their legs, today they say that we should hold early elections, before we were traitors, we were imported, these K Cypher's narrative has been blown away, in his eyes, politics is a game but we consider it as Jihad.
He said that if there is political stability to fix the country's economy, that is why Imran Khan wants political stability not to come. The four years of devastation began the day the elected government was overthrown by an illegal unconstitutional conspiracy, disqualifying its supreme commander, the package of the conspiracy that took the form of Project Imran Khan in 2010. It was launched but its end is near.
Interior Minister Rana Sanaullah said that we are politicians and politicians never refuse to sit for negotiations. They did not even shake hands, when the Pulwama incident happened, five senior people from each party waited for him for an hour and a half, Imran Khan was the Prime Minister at that time and was present in the parliamentary building.
The then army chief Qamar Javed Bajwa kept insisting that the entire opposition is sitting, the meeting should be held under your chairmanship, we have to do a briefing, it will send a message of national unity, but this person did not agree, his attitude has been the same since the beginning of the day. Yes, don't offer us threatening talks, he has seen threats, they wanted to blackmail the establishment and take the date of the elections but could not take it.
Similarly, he wants to take it from us but will not be able to take it, there is a political way for him to talk, we will take the matter to PDM and take a decision there, we cannot talk conditionally, sitting unconditionally. He has still talked about conditional negotiations and has also threatened. This is not acceptable. In response to a question, he said that the third force he is talking about has been abusing for three months that it should interfere and change the date of the elections. Sticking to their decision which is written in the constitution, they will not go back and forth anymore.
Imran Khan was of the opinion that there will be a sea of people in Rawalpindi, when twenty-five million people come to Rawalpindi, I will discuss whether to go to Islamabad or forgive them. Smoke came out of his ears, the thousands of people he had said did not come, then he announced the dissolution of the assemblies in Frustration. He said that we did not create these economic conditions, but he created them. done,
He breached the agreement with the IMF and exacerbated the crisis, his policies brought the country to the brink of default but we have managed it, not yet able to start the phase of giving relief to the people, which they will do soon. will, the economy will also come out of the bad situation, we are trying to stop the economic disaster that started four years ago.
The news is provided by the APP © 2022 The Associated Press of Pakistan, published by EMEA Tribune