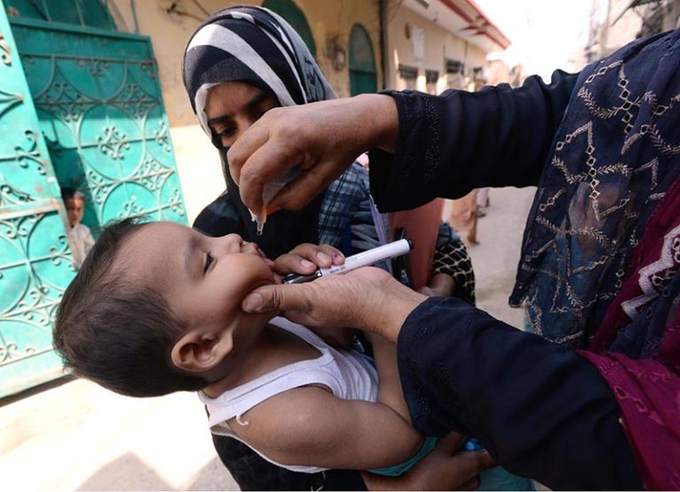 Islamabad. November 27 (APP): The third Sub-National Immunization (Polio) campaign of the current year 2022 will start tomorrow Monday, 13.5 million children under the age of five years in 36 districts of the country should be vaccinated against polio. will This campaign will start from November 28 in nine districts of Punjab, eight districts of Sindh, six districts of Balochistan and Islamabad. The campaign in Khyber Pakhtunkhwa will be launched on December 5, targeting nine high-risk districts in the region. More than 100,000 trained and committed "Health Guards" will participate in the vaccination campaign to deliver protective vaccines to children at their doorsteps.
Federal Minister for National Health Services, Regulations and Coordination Abdul Qadir Patel said that if we eradicate the polio virus from southern KP, we will be able to completely eradicate polio from Pakistan. He added that we are actually quite close to eradicating polio and are determined to eradicate the polio virus as soon as possible.
He said that Pakistan has made great progress in the war against polio, the circulation of the virus has remained only in a small part of the country. Dr Shahzad Baig, coordinator of the National Emergency Operation Center, emphasized that the anti-polio campaign requires collective action at all levels for the complete elimination of the polio virus from the country.
He said that our aim is to ensure timely and frequent vaccination of children. He further said that high-risk districts are our top priority and we want to eradicate polio virus from the challenging areas as well as provide protection to the rest of the region. I especially urge all parents and caregivers to vaccinate their children instead of hiding or refusing them during all vaccination campaigns.
It is important to understand that the polio virus is still in our environment and no child is safe until all children are properly vaccinated. Additionally, the National Emergency Operations Center launched a "Health and Safety" helpline 1166 and a 24/7 WhatsApp helpline 0346-777-65-46 to assist parents and caregivers in reporting missing children. could He further said that to build immunity in children and avoid possible death or life-long paralysis, give polio drops repeatedly.