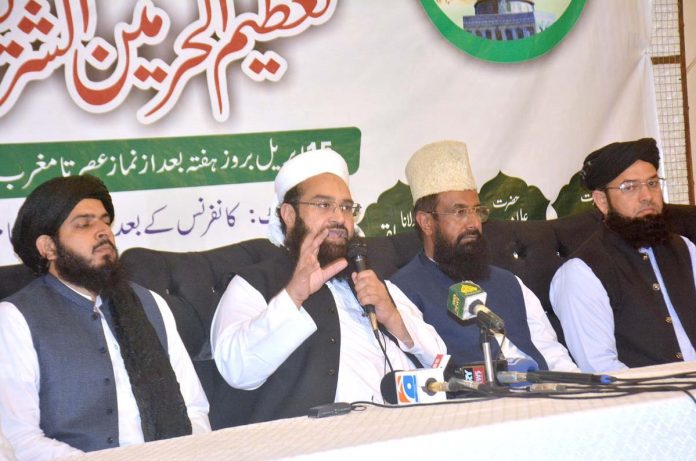 Lahore. April 15 (APP): Chairman Pakistan Ulama Council and Special Representative of the Prime Minister of Pakistan for Interfaith Harmony and Middle East Hafiz Muhammad Tahir Mahmood Ashrafi has said that the sanctity of the Holy Haram is more dear to us than our own lives. It is serving pilgrims in the best way, our standard is Quran and Sunnah, not any party or personality. Leaders of all political parties will have to sit together to get the country out of problems.
He expressed these views while addressing the Al-Haramin Al-Sharifin Wal-Aqsa conference at Jamia Masjid Al-Mustafa Lahore on Saturday. Tahir Ashrafi said that Ramadan is the holy month of Muslims, the series of odd nights has started and these nights are very special. We should make special prayers not only for ourselves but also for our country because a stable Pakistan is the first for us. He said that fasting is the only act of worship for which Allah will reward us. Should be kept.
Tahir Ashrafi said that worshipers were treated very badly in Al-Aqsa Mosque by Israeli soldiers who killed old people, children and women. He said that Saudi Arabia is a big brother for us and is the center of the Muslim Ummah. We hope that the Muslim Ummah will unite and become the voice of the Palestinians and Kashmiris. He said that for us as Muslims. Qur'an and Sunnah are first and we need such measures to help the Muslim Ummah out of the problems.
We should think about our country beyond parties, languages and personalities. He said that the sanctity of the Haram Sharif is the first for us and our lives are there for it. He said that for the pilgrims to the Saudi government. Exemplary arrangements are always made. He said that the center of unity and unity of Muslims is the Haramin Sharifin, the Muslim Ummah is very dear to the security and stability of the Haramin Sharifin.
In the same way, Muslims cannot remain silent on the insulting of Al-Aqsa Mosque, Israel is continuously oppressing Palestinians and like previous years, this year also insulted Al-Aqsa Mosque and tortured worshipers, the United Nations, the Organization of Islamic Cooperation and international peace activists. Forces, religious leaders and leaders must take practical steps on the issue of Palestine and Kashmir.
The news is published by EMEA Tribune & Associated Press of Pakistan