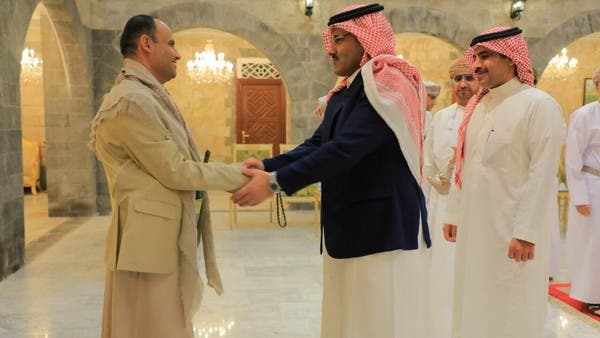 Saudi Arabia's ambassador to Yemen has visited Sana'a, the capital of Houthi rebels, to strengthen the ceasefire and advance negotiations. This could pave the way for an end to the eight-year war in the country.
Mohammad Al-Jaber said in an official statement issued by the Saudi authorities about his visit: "I am visiting Sana'a with a delegation from the brotherly kingdom of Oman to consolidate the ceasefire."
He added that he supports the prisoner exchange process and wants to explore opportunities for dialogue between the Yemeni parties to reach a lasting and comprehensive political solution.
In continuation of the Kingdom's efforts to end the Yemeni crisis and in support of the initiative presented by the Kingdom in 2021 AD, Azor Sana'a and in the presence of a delegation from the Sultanate of Oman Al-Shaqiyya with the aim of establishing a ceasefire and cease-fire and supporting the process of exchanging prisoners and discussing ways of dialogue between the Yemeni components to reach an inclusive and sustainable political solution in Yemen. pic.twitter.com/AtQMLQ69I9

— Mohammad Al Jaber (@mohdsalj) April 10, 2023
The Saudi delegation's visit to Sana'a is part of diplomatic efforts to end the conflict pitting Iran-backed Houthi rebels against the internationally recognized government. These diplomatic efforts are supported by the Saudi-led coalition. .
A ceasefire announced nearly a year ago has significantly reduced active hostilities in Yemen and is still widely respected even though it officially expired in October.
A source in the Yemeni government, speaking to AFP on condition of anonymity, said that Saudi Arabia and the Houthis have agreed in principle to a new six-month ceasefire to establish a two-year 'transfer of power'. On Sunday, the Houthi media showed Al-Jaber shaking hands with the political leader of the rebels, Mehdi al-Mashat.
Saudi officials did not provide details about the meetings in Sanaa or respond to requests for comment. It should be noted that the Houthis captured the capital Sanaa in 2014.
A sudden reconciliation between Saudi Arabia and Iran has boosted hopes for an end to the fighting in Yemen, which has displaced or killed millions of people and has been described by the United Nations as the world's worst humanitarian crisis.
The new cease-fire agreement is expected to meet the main goals of the Houthis, including the payment of salaries to civil servants in Houthi-held areas. They have also called for the lifting of operational restrictions on Houthi-held airports and ports. .