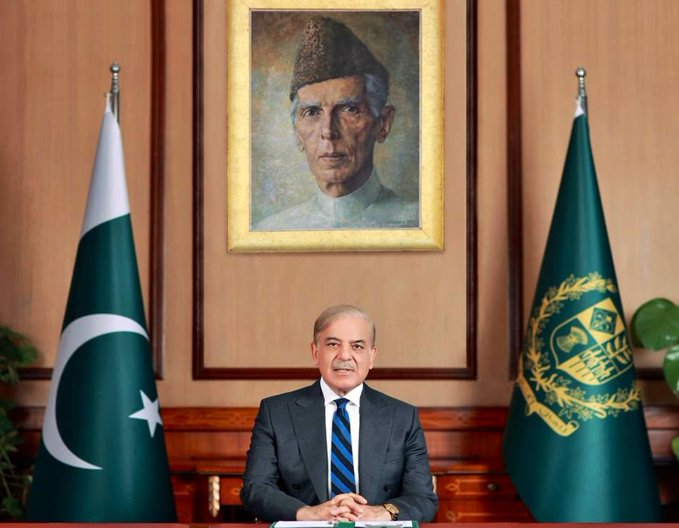 Islamabad. November 23 (APP): The leaders of the coalition parties of the government have fully supported Prime Minister Shehbaz Sharif with regard to constitutional appointments and entrusted him with the authority to make decisions.
A consultative meeting of the leaders of the coalition parties was held at the Prime Minister's House on Wednesday under the chairmanship of Prime Minister Shehbaz Sharif.
According to the sources, Chaudhry Shujaat Hussain, president of Muslim League (Q), while speaking on this occasion, said that Allah Almighty has blessed you with honor and position, we thank Allah Almighty, this is your constitutional right and we Standing with you, JUI(F) chief Maulana Fazlur Rehman said that whatever decision the Prime Minister takes, JUI(F) stands with you and supports you.
Balochistan Awami Party leader Khalid Magsi said whatever decision you take, we stand firmly with you. Foreign Minister Bilawal Bhutto Zardari said, Mian Sahib, we stand with you in every decision, MQM Pakistan Dr. Khalid Maqbool Siddiqui said that I have complete trust in you, you have a constitutional right, you consulted us, thank you, Aslam Bhutani said that you have to make a decision according to the constitution, we would have supported your decision. are,
Mohsin Dawar said that you have the authority to make important appointments and you are the one who is authorized to do it, we are with you, Aftab Sherpao said that the authority is yours, you trusted us, we have complete trust in you. Shazin Bugti said that the constitution has given you responsibility, we support and support your decisions, consulting is a manifestation of your democratic thinking.
Former prime minister and PML-N leader Shahid Khaqan Abbasi said that the complete trust of all parties on Prime Minister Shehbaz Sharif is a source of pride for us.