First Lady Begum Samina Arif Alvi's speech at the "Rights of Tuberculosis Victims and Gender Advocacy" seminar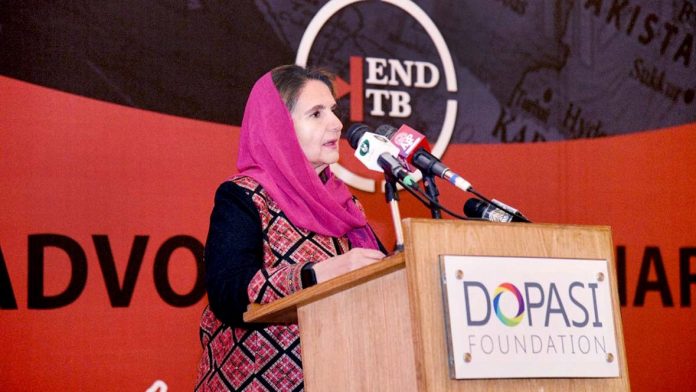 Islamabad. November 25 (APP): Begum Samina Arif Alvi, the wife of President Dr. Arif Alvi, has said that Pakistan is on the fifth place among the countries most affected by tuberculosis, so it is important for all stakeholders and partners to They should make infectious disease control strategies and procedures an essential element of primary health care to prevent this disease.
Naha expressed these views while addressing a seminar on "Rights of Tuberculosis Victims and Gender Advocacy" on Friday. The seminar was organized by Dopsy Foundation. Begum Samina Alvi said that it was very sad to know that 6 lakh new cases of TB are still coming every year, 48 thousand people die which means Every single day we are losing 131 precious lives, on the basis of these statistics, Pakistan ranks fifth among the countries most affected by TB.
He expressed confidence that the Government of Pakistan would ensure its full commitment to bring about a fruitful reduction in the fight against TB. A few years ago in Pakistan, it was considered taboo and women suffering from breast cancer felt inferior to come forward or did not realize for a long time that they had contracted the disease.
He said that Dopsy Foundation and Stop TB Partnership have collaborated to integrate the breast cancer module in the One Impact mobile platform to empower and connect the affected communities. He added that although the goal of continuous and sustained efforts has come closer to achieving the TB control goals, it was an encouraging sign for all those who strive for TB prevention. TB is a sad reality that is life threatening, TB is a curable disease and the sooner we realize it the better.
Samina Alvi said that the best possible protection from this disease can be provided through the vaccines available for infants and children, but in certain situations, medicines can also be used to prevent this disease, we need to protect the disadvantaged in our society. The extraordinarily high cost in terms of human suffering borne by people should never be forgotten.
He added that TB can damage relationships. "TB does not affect everyone equally, it puts some of us at greater risk than others," he said. The worst affected are coal miners, prisoners, eunuchs, teenage girls and many vulnerable populations. Samina Alvi said the seminar revealed how social and cultural barriers related to community, rights and gender can greatly influence TB risk, exposure and ability to access services.
He said that the proposed key measures could help us to address the CRG-related barriers in Pakistan in line with the goals of the 2018 UN High Level Meeting and our national commitment to end TB by 2030. Parliamentary Secretary Health Dr. Shazia Thobia Aslam Soomro said that Pakistan aims to reduce TB deaths by 95% by 2023, but to achieve this goal, people and community-based approach will be required. need of
Director Program Dupsi Foundation Kunz Al-Ayman and CRG Expert of Stop TB Kawamehi Smith in their presentations on the occasion highlighted the objectives of the seminar, review of CRG assessment as well as the importance of continuous review of JPRM and CRG. Highlights the results. He said that more than 11 thousand lady health workers have been trained in Punjab to provide TB care, prevention and support.
On this occasion, screenwriter and actor Faisal Qureshi, as the goodwill ambassador of TB, emphasized that since Pakistan is among the few countries with high incidence of TB, it is important to spread awareness about the disease through various means of communication. There is a need to create awareness. In her virtual address, Executive Director Stop TB Partnership, Dr. Lucica Datione highlighted the importance of strong partnerships between civil society organizations as well as the public and private sectors.
The news is published by EMEA Tribune & Associated Press of Pakistan