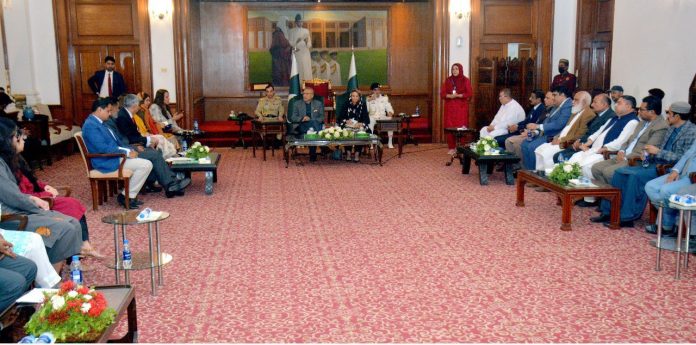 Islamabad. December 3 (APP): President Dr. Arif Alvi has urged the business community and private organizations to work together with the government in creating opportunities for special (disabled) people so that such people can lead a better life and Help can be provided to play their role in the society. He was addressing an interactive dialogue on the subject of special people organized by the World Health Organization at Governor House Sindh on Saturday.
The President said that the government is making all possible efforts to provide their rights and facilities to special people. The government alone cannot do all this and the private sector should come forward in this regard. First Lady Samina Alvi was also present on the occasion. The President said that society needs to do a lot in terms of inclusion and acceptance of disabled people.
He said that easy access to technology should be provided to the physically challenged, visually impaired, hearing impaired and mentally challenged people and there is a need to provide better conditions for them to increase their access to public places. The President stressed on this. Given that the mainstreaming of special people will help them become more useful and productive citizens of the society.
The President urged the federal, all provincial governments and relevant partners to play their role in providing technologies to provide maximum employment opportunities for the disabled. The President said that educational and training for the enrollment of disabled Institutions should be encouraged to emphasize the availability of trained teachers, especially for the physically, visually or hearing impaired.
He said that about 10% of the total population of the country consists of disabled people. The President praised the issuance of disability cards by Nadraki and emphasizing the need for accurate history of disabled people, the President of the country has made it more effective and comprehensive in this regard. He stressed the need for awareness campaign so that special persons come forward to register themselves and avail facilities.
The President also emphasized on ensuring the availability of moving ramps and wheelchairs at various places including educational and other institutions. On this occasion, he sought suggestions and opinions from the participants of the interactive dialogue to overcome the difficulties and challenges faced by the disabled. The president also appreciated the role of the federal and provincial governments, representatives of the World Health Organization, NADRA and other agencies participated in the interactive dialogue.
Earlier, Dr. Maryam Malik, Technical Adviser of WHO said that International Day of Persons with Disabilities is celebrated every year. have done