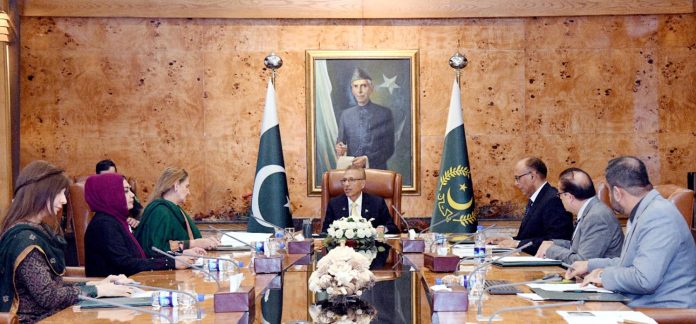 Islamabad. November 28 (APP): President Dr. Arif Alvi has said that psychological and physical barriers to highlight the rights of special people, bring about changes in social behavior towards them, and their inclusion in the mainstream. A comprehensive and effective awareness campaign is needed to remove barriers and promote economic and financial empowerment.
The President of the State expressed these views during the presentation given by the Press Secretary of the President, Qamar Bashir, on the plans of awareness campaign related to special persons at the President's House on Monday. First Lady Begum Samina Arif Alvi and senior officials of the President's Secretariat were also present on this occasion. Addressing the meeting, the President said that special persons are an important part of our population and it is the duty of the relevant stakeholders and the society in general to include them in all aspects of life including politics, economy, finance, business, trade and services. Ensure the inclusion of
He emphasized on removing the psychological and physical barriers to realizing the full potential of the disabled and creating conditions for them to help them become useful members of the society. The President said that there is a need to revise our attitudes towards special people and bring active reforms in our education system from the grassroots level so that our students are aware of the rights of special people and the responsibilities of the society at all levels. can go and save them from stereotypes.
The President said that media has always been at the forefront of informing, educating and entertaining people and has a wide reach in urban, rural and underprivileged areas. He said that the media can sensitize the relevant stakeholders and the general public to remove social barriers regarding special people, include them in the mainstream and create an environment free from harassment and discrimination.
The President urged all stakeholders including public and private sectors including government ministries, departments, NGOs, welfare and civil society organizations to improve legislative, legal and financial aspects related to special persons on priority basis.
He highlighted the need to build ramps in buildings and public places for the convenience of disabled people and stressed on the private sector especially banking, telecom, business and industrial sectors to take steps in this regard as well as provide employment opportunities. gave He also stressed the need to make the websites of public and private sector organizations accessible and adapted for special people.