The visit was more successful than expected, Russia will supply oil, diesel to Pakistan at discounted rates, Minister of State Dr. Mossadegh Malik's press conference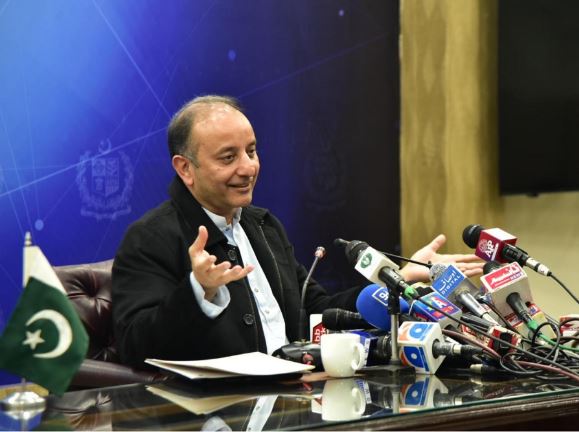 Islamabad. December 5 (APP): Minister of State for Petroleum Dr. Mossadegh Malik has said that the visit to Russia was more successful than our expectations. Russia will supply oil and diesel to Pakistan at a discounted price. And discussions have started to acquire LNG from some Russian companies.
A Russian official delegation will visit Pakistan in mid-January to push for progress on energy deals, Iran has announced a humanitarian donation of 2 million pounds of LPG that has been negotiated, in addition to 2 million Pounds of LPG will arrive in Pakistan within the next 10 days to solve energy problems.
He expressed these views while addressing a press conference here on Monday. He said that it was very important to go to Russia because the Prime Minister clearly said that the factories that are being closed should not be closed, the youth who leave home should not be unemployed, the smoke coming from the chimneys of the factories. Stay,
The Prime Minister has ordered that these problems should be resolved and the chimneys of environment-friendly factories should continue to operate. If the economy moves forward, the youth will get employment. are He said that in most countries around the world, one and a half to 2 percent of energy is required for economic development, and in some countries there is no shortage of energy, but despite this, energy is very important for economic development so that the youth can get employment.
He said that Pakistan has to increase energy by at least 10%. He said that we need energy to move forward, that's why we are going to different countries, the progress of which will be informed from time to time.
He said that keeping in view the vision of Prime Minister Muhammad Shahbaz Sharif to provide employment to the youth, we visited Russia recently and this visit was more successful than our expectations. will provide crude oil which has been negotiated, secondly it has been decided that diesel will also be supplied to Pakistan by Russia at discounted rates and oil and gas will be available at the same discount as any other discount in the world. getting
Thirdly, LNG is discussed, the pressure of LNG is very high at the moment, so the big Russian companies did not have LNG at that time. "The whole world was telling us that there is a global fabric to invest in renewable energy and we were blindly listening to them and the result was that everyone bought LNG," he said. And some countries also switched to coal and we watched.
He said that now we have decided to go ahead with the process that we need keeping in mind the national interest and international rules and regulations and these agreements are a part of that, moving ahead with the interest of Pakistan. are
He said that Russia contacted some of our companies who had LNG at that time and we have started discussions with these companies which is welcome.
He said that the Russian government is also setting up two new LNG plants and Pakistan has been offered to start signing contracts for 2025-26. He said that in the past we had signed similar agreements with Qatar which proved to be beneficial for Pakistan.
Minister of State Dr. Mossadegh Malik said that some of our old agreements on gas pipeline have also been shown interest by Russia and we have asked Russia to show some flexibility in this regard.
He said that two major agreements, one of which is the Pakistan Streamline Agreement, which is also called the North-South Pipeline, and the other is the pipeline required for obtaining gas at the global level. To know what kind of pipeline we will need. Regarding the country's gas reserves, the Minister of State said that our gas reserves are decreasing by 8 to 10 percent every year, despite this year, we had more gas than last year during the whole of November. Delivery and December, January also has more gas than last year which is being delivered to consumers.
He said that under gas load management, it is being ensured that cooking time is from 6 am to 9 am, from 12 pm to 2 am during the day and from 6 pm to 9 pm at night. Gas supply should be ensured. He said that gas pipelines are also being inspected daily to ensure that gas is being supplied.
He said that there are some infrastructural problems and anyway the gas pressure decreases in winter and there are some areas where gas does not reach throughout the year, we are providing additional LPG, 20 government companies. Including SNGPL, PARCO, SSGPL and PSO, more than 20,000 tonnes of LPG are being procured annually to supply LPG to areas where there is no distribution.
He said that some of these companies were not doing distribution but now they are doing distribution. Dr. Mossadeq Malik said that Iran has announced to provide 2 pounds of LPG under humanitarian basis, besides an additional 2 million pounds of LPG will arrive in Pakistan within 10 days on Saturday, so that December and January Arrangements can be made for energy supply during the severe winter months.
He said that the visit to Russia in gas load management, arrangement of supply for domestic consumers, arrangement of LPG and procurement of additional LPG from Iran will help in solving energy problems. In response to a question, he said that the media reports regarding the lack of energy and the visit to Russia were not proved correct.
The details of the agreements signed with Russia will be finalized by January and a ministerial delegation of Russia is visiting Pakistan in January, after which more progress will be made on these agreements. In response to a question, he said that these agreements are being made for the country and the nation, they have nothing to do with the elections, they will accept whatever decision is given by the people's court.
The news is provided by the APP © 2022 The Associated Press of Pakistan, published by EMEA Tribune