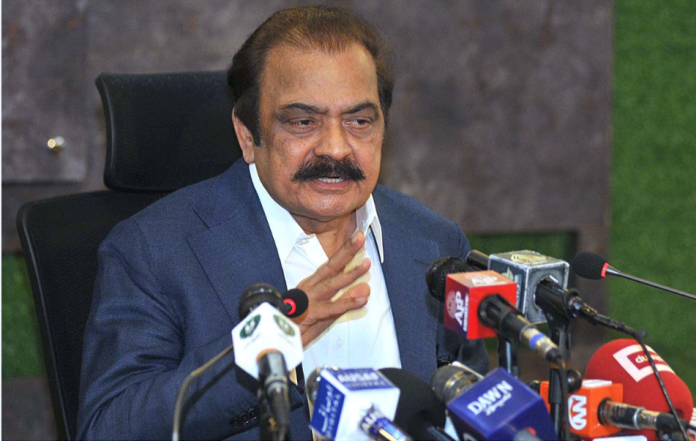 Faisalabad – April 23 (APP): Federal Interior Minister Rana Sanaullah Khan has said that the alleged audio of the conversation between two women is very alarming, the Supreme Court should immediately take suo motu notice of it so that the real facts and its background can be ascertained. On Sunday night, while talking to the media in Faisalabad, he said that every Pakistani is concerned about the conversation that has been mentioned in this audio leak by naming some personalities of the Supreme Court because housewives have to do this. Do not engage in inappropriate conversation.
Not only this, the person who recorded this tape should also be held accountable and strictest action should be taken against the person who has this alleged tape. He said that if the housewives allegedly incite party people to betray and hold such alleged controversial talks, there will be repercussions. He said that an audio of Chaudhry Pervaiz Elahi was also leaked earlier, so if the conversation in these audios is true, then he must be questioned.
He said that housewives are not usually involved in such discussions. Rana Sanaullah said that the children, loved ones, mother-in-law, father-in-law, mother, sister, daughter, brother, etc. They are only bound by the constitution and law. He said that the manner in which Nawaz Sharif was disqualified, even after that, the news that circulated about some important relevant figures, especially Sait, had also damaged the prestige of the country. He said that there should be a forensic audit on this audio recording on a priority basis.
The Federal Interior Minister said that housewives are usually non-political and especially they do not discuss such issues as in this audio, an important national issue, namely the election case, is being discussed. It is being heard in the judiciary and is of a serious nature.
Rana Sanaullah said that if this audio is proved to be fake in the forensic audit and FIA investigation, then stern action should be taken against those elements who created this suspicious audio and created sensation in the country. He said that these types of audios and videos have been coming to the public in the past, but every time they were ignored by showing expediency, but if this happens now, God willing, it may affect the good name of an important institution. .
He said that if the audio leak of former Punjab Chief Minister Chaudhry Pervez Elahi, in which he was allegedly talking to a judge, had been investigated and action taken against those responsible, this type of practice would not have been repeated again and again. He said that if PTI has nothing to do with it, then they should also appeal to the Chief Justice of Pakistan to take immediate suo motu notice of the said audio leak and conduct an impartial investigation. They don't want it, they want the election to be on time, when the election is held, Nawaz Sharif will lead the election campaign of PML-N.
The news is published by EMEA Tribune & Associated Press of Pakistan