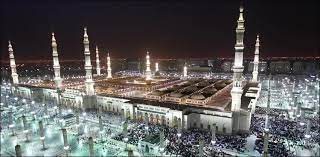 Islamabad. April 9 (APP): Sheikh Dr. Abdul Rehman Al Sudis, the head of the Haram Al Sharif administration, has said that the number of visitors to the Prophet's Mosque has exceeded one and a half million so far during the month of Ramadan.
According to the Saudi Broadcasting Agency, in a statement issued by the head of the Haramin Al-Sharifin administration, it has been said that from Muharram to the 15th of Ramadan, 16.3 million people have visited the Prophet's Mosque.
He said that a comprehensive plan is being implemented to provide services and facilities to pilgrims during Ramadan. Sheikh Dr. Abdul Rahman Al-Sadis said that all the departments of the Haramain administration and the staff working in them are working sincerely to provide convenience to the pilgrims.
The news is published by EMEA Tribune & Associated Press of Pakistan