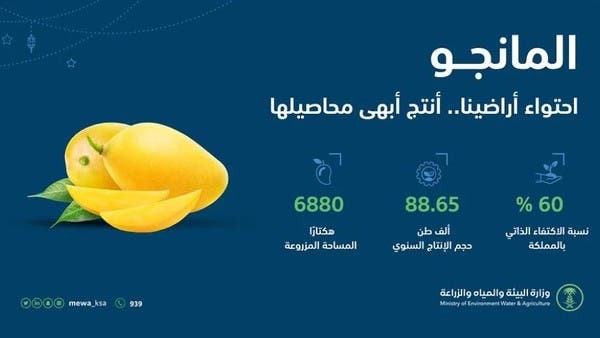 The Ministry of Environment, Water and Agriculture of Saudi Arabia has revealed that the self-sufficiency rate of the mango crop in the Kingdom of Saudi Arabia has increased to more than 60 percent. The Ministry of Agriculture says that more than 88.6 thousand tons of mangoes are produced annually in Saudi Arabia. Mango cultivation is done on 6880 acres in the state.
This statement came at a time when the Ministry of Agriculture through the sustainable rural development program "REF" to increase the production efficiency of the mango crop, achieve food security, its cultivation rate in accordance with the strategies and plans of the Ministry. is working to increase the Saudi Vision 2030 goals.
In a series of seasonal crop reports, the Ministry of Agriculture stated that mango is an excellent and profitable crop with high economic yield in Saudi Arabia. It is cultivated in many areas, especially Sabya, Abu Arish, Al-Darb, Samta and Besh in Jazan, Al-Qanfuda, Al-Layth and Adham areas of Makkah, Al-Mukhwah and Qalu governorates, Al-Baha, Tabuk coastal governorates, Asir, Najran. It is cultivated in Al-Madinah Al-Munawrah and Eastern Governorates.
The agriculture ministry added that the mango production season is from April to August. During this period, Saudi Arabia produced more than twenty different varieties of mangoes, including Tomi Atkins, Keith, Kent, Alphonse, Sukari, Al-Zabda, Al-Hindi, Al-Jalan, Langra, Al-Jolly, Santisan, Fajr-Kland, Al-Sumka, Varieties include Awais, Timur, Nomi, Valencia, Thai and Brio.