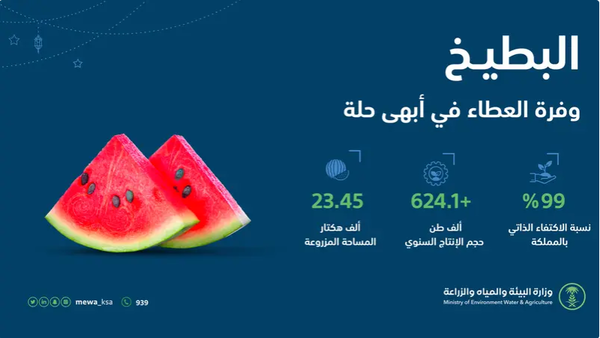 Saudi Arabia's Ministry of Environment, Water and Agriculture has revealed that the self-sufficiency rate of the watermelon crop in Saudi Arabia has exceeded 99 percent. More than 624,000 tons of watermelons are cultivated annually in the state. According to the Ministry of Agriculture, watermelon cultivation is done on an area of more than 23 thousand hectares in Saudi Arabia.
Through the Sustainable Rural Development Program "Ref", the Ministry of Agriculture seeks to increase the productivity of the cereal crop, achieve food security, increase its cultivation rate during its season.
Watermelon season starts in the summer period and lasts for six months, the watermelon harvest starts in late February and bears fruit 100 days after it is harvested.
Watermelon in Saudi Arabia is grown in two seasons: in September it is covered to protect it from frost. It is harvested after 90 to 120 days between February and March end. It is grown in most parts of the country. The most important production areas include Riyadh, Al-Jawf, Hail, Makkah al-Mukramah, Al-Qasim and Jazan.
Watermelon is a useful fruit for human health. It contains many types of vitamins. It strengthens the immune system, protects the brain, protects against heart diseases and cancer and replenishes the body's dehydration.
The Ministry organizes many festivals to coincide with the start of the watermelon season, including the Habhab Al-Hadari Festival in Al Laith, which often includes various exhibitions and events, as well as entertainment, cultural and social events.
Self-sufficiency in the cultivation of crops, fruits and grains at the local level in Saudi Arabia is part of the Kingdom's Vision 2030 goals.