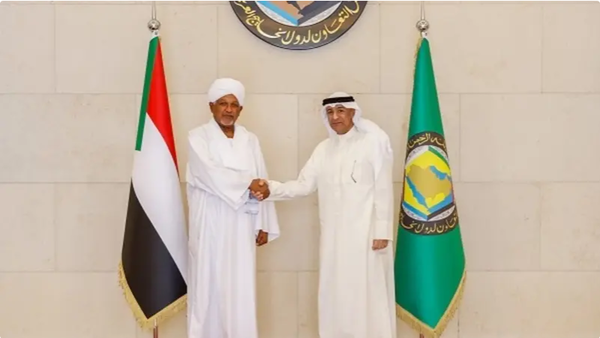 The Secretary General of the Gulf Cooperation Council, Jassim Muhammad Al-Dawi, met with the Undersecretary of the Sudanese Ministry of Foreign Affairs and the Special Envoy of the President of the Transitional Sovereignty Council in Sudan for neighboring countries and the African Union, Dafullah Al-Haj Ali. The meeting was held at the headquarters of the General Secretariat in Riyadh on Sunday.
On this occasion, Al-Badewi emphasized the need to stay peaceful and stop all kinds of military tension, prioritizing the national interest in Sudan. He called for the security, safety and stability of Sudan, maintaining harmony between the state and its institutions and addressing all challenges through dialogue in line with the aspirations of the brotherly people.
He praised the humanitarian role played by Saudi Arabia and all GCC states in the current crisis in Sudan. He also praised the Arab League, the Quartet and all international and regional efforts aimed at building consensus among Sudan's political forces and paving the way for an end to the crisis.
Earlier, Saudi Foreign Minister Prince Faisal Bin Farhan met Ambassador Dafullah Al Haj Ali at the ministry's headquarters in Riyadh.
During the reception, he discussed the current situation in Sudan, where the foreign minister emphasized on the use of all resources for the establishment of peace in Sudan.