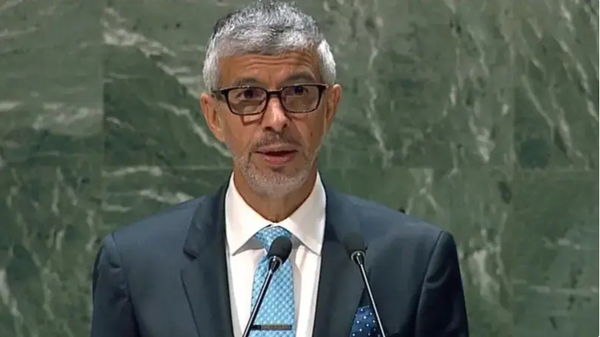 The Permanent Representative of the Kingdom of Saudi Arabia to the United Nations, Ambassador Dr. Abdulaziz Al-Wasil, emphasized the need to implement the current ceasefire in Sudan.
Al-Wasil said in his speech at the emergency meeting of the Security Council on the situation in Sudan today that the Kingdom of Saudi Arabia is engaged with all partners to stabilize the ceasefire in Sudan.
He also appreciated the role of the Sudanese parties in facilitating the evacuation of citizens.
The Sudanese delegate to the United Nations, Ambassador Harith Idris, pointed out that the Sudanese army is committed to the ceasefire despite violations by the other side, saying that the army is trying to minimize civilian casualties.
During the speech at the emergency meeting, he added that the Sudanese forces are keen to secure the diplomatic headquarters from the threats of the rebels.
He emphasized that deployment of rebel forces in cities should be condemned.
Noting that the military helped evacuate citizens of several countries amid threats, stressing that the solution should be left to the Sudanese.
He made it clear that his country rejects external interference, citing that Sudan has been leading neighboring countries and the region in dealing with the crisis.
Volker Peretz, the UN special envoy for Sudan, said the US-brokered ceasefire in Sudan "is still holding in some areas, but there is no indication that the two warring parties are ready for serious talks." , which shows that each of them believes they can get the upper hand over the other."
U.S. Ambassador to the United Nations Linda Thomas Greenfield said that the U.S. Embassy in Khartoum was the target of direct and indirect attacks.
He stressed the need for all Sudanese parties to ensure the security of diplomatic missions.
He asserted that this is the time for dialogue instead of taking up arms.
China's envoy to the United Nations stressed his country's support for Sudan's sovereignty and territorial integrity, saying he called on both sides of the conflict in Sudan to immediately stop aggression.
He added that an escalation of the current conflict in Sudan would threaten regional security, stressing that he supported the UN and African efforts to resolve the crisis there.