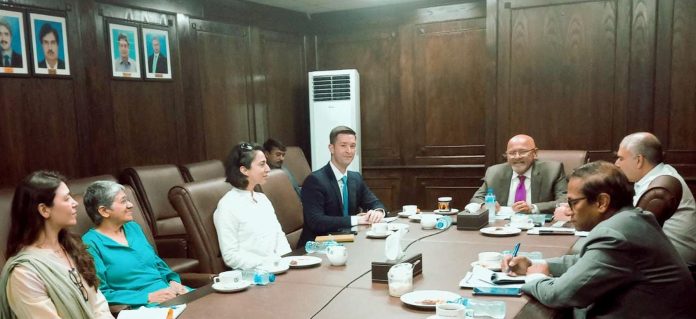 Islamabad. May 17 (APP): Under the chairmanship of Secretary Ministry of Maritime Affairs Ghafran Memon, a meeting was held here on Wednesday in the Maritime Affairs Division with the delegation of Pakistan Regional Economic Integration Activity (PREIA) regarding the preparations for the conference. happened Additional Secretary Maritime Affairs, representatives of Pakistan National Shipping Corporation (PNSC) and officials from the office of DG Port and Shipping Wing Karachi also participated in the meeting. It was done for preparations for the organization of which the Minister of Maritime Affairs Syed Faisal Ali Sabzwari will be the chief guest. The conference aims to identify regulatory and institutional gaps and establish actionable commitments that the Government of Pakistan can announce under the Green Shipping Challenge during COP28 in 2023.
According to a press release issued by the Ministry of Maritime Affairs, the PREIA delegation briefed the Secretary about their 9-year USAID-funded project. The plan aims to enhance Pakistan's trade competitiveness in international markets, with a focus on comprehensive climate change and trade policy. The delegation said that the purpose of PREIA is to develop sustainable strategies and solutions to reduce the environmental impact of maritime activities while keeping in mind the economic growth and resilience of the sector. Secretary Maritime Affairs briefed the delegation on Green Shipping. Informed about the ongoing efforts of the Maritime Affairs Division for the promotion of
It was highlighted that PNSC has continuously contributed to the United Nations Sustainable Development Goals (SDGs) under the auspices of the International Maritime Organization (IMO), with particular focus on " on Climate Action". Additionally, a "Green Transition" strategy for all ships is also under consideration. Finally, the Secretary of Maritime Affairs has extended full cooperation and support to the PREIA delegation for future consultations and meetings. Ensured that sustainable development goals can be achieved and the environmental impact of maritime activities in Pakistan can be reduced.
The news is published by EMEA Tribune & Associated Press of Pakistan