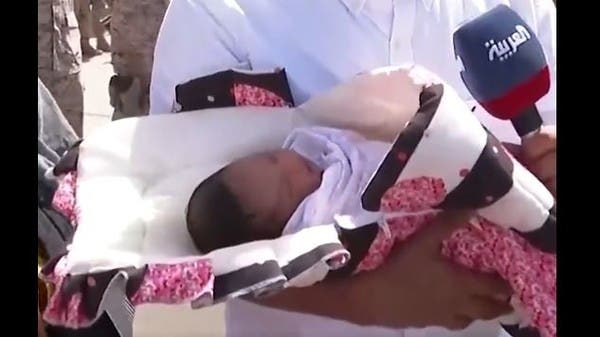 Al-Arabiya aired a video of a 15-day-old baby girl being transported from the port of Port Sudan in Sudan to the King Faisal Naval Base in Jeddah. A large number of people praised the girl's withdrawal process.
The infant girl's grandmother, Rabia al-Adawiya al-Bashri, is a resident of Khartoum's Kafouri neighborhood. The girl's grandmother told Al-Arabiya about the details of the evacuation. Rabia al-Adawiya said that the hospital where the baby girl was born. The hospital was targeted from the third day of his birth. Thank God, our newborn baby girl's life was saved. There was a severe fire in the area.
Rabia said that the crew of the ship on which the infant girl was brought from Sudan to Jeddah also treated the girl and her family with love and mercy. Rabia specially thanked Saudi Arabia for its efforts to evacuate the foreigners.
The child's mother said that the decision to evacuate Khartoum was made after the shelling reached our house. The bombing forced us to write an exit petition which took no time.
The Saudi Ministry of Foreign Affairs announced that the number of evacuees from Sudan has reached 4,879, including 139 Saudi citizens and 4,738 from 96 countries around the world.
The countries whose citizens were brought to Jeddah from Sudan are Thailand, Australia, Rwanda, Gambia, Eritrea, Malawi, Macedonia, France, India, Norway, Palestine, Yemen, USA, Syria, Philippines, Nigeria, Bangladesh, Sweden. , Kenya, Tunisia, Iraq, Libya, Morocco, Jordan, Mauritania, Tanzania, Iran, Pakistan, Canada, Russia, Panama, Ecuador, Ireland, Greece, Vietnam, Nepal, Bosnia and Herzegovina, South Sudan, Somalia, Burkina Faso, Ivory Coast, Ghana, Zimbabwe, Burundi, Myanmar, Indonesia, Tajikistan, Mongolia, Turkey, Italy, Ethiopia, Chad, Germany, South Africa, Uganda, Liberia, Namibia, Sierra Leone, United Kingdom, Belgium, Benin, Netherlands, Egypt, Includes Mauritius, Romania.