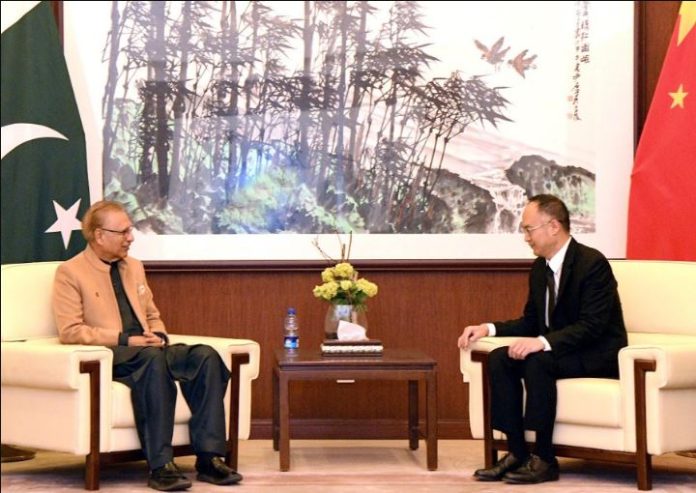 Islamabad. December 6 (APP): President Dr. Arif Alvi visited the Chinese Embassy to express his condolences on the death of former Chinese President Chiang Zemin. He expressed his heartfelt condolences to the Chinese leadership and people on behalf of the government and people of Pakistan expressed.
The President also condoled with Chinese Ambassador Nong Rong. According to a statement issued by the press wing of the Presidency on Tuesday, on the occasion of his visit to the Chinese Embassy, President Dr. Arif Alvi said that he was deeply saddened and saddened by the death of the former Chinese President.
My thoughts and sincere prayers are with the former president's family, friends and the Chinese people. President Arif Alvi said that Chiang Zemin was an excellent politician and wise leader, the former president promoted global peace and stability at bilateral, regional and international levels, Chiang Zemin was a great and trusted friend of Pakistan.
He said that Chiang Zemin played an invaluable role in strengthening the friendship based on bilateral strategic cooperation between the two countries.
He said that the friendship between Pakistan and China is based on extraordinary trust, understanding, strategic communication and extensive practical cooperation. He said that Pakistan is determined to complete the projects under CPEC, CPEC projects reflect the contribution of remote areas of Pakistan in socio-economic development, CPEC has changed the economic scenario of Pakistan. Early completion of Special Economic Zones will help accelerate investment.
The President expressed his gratitude to China for its generous assistance during Corona and the devastating floods. Later, in the press statement issued to the official media of Pakistan and China, the President of the State expressed deep sorrow and regret over the death of the former President of China. He said that in the rapidly changing world, China has gained a central position in sustainable peace, global and regional economic and financial stability.