"Decapitation strike" .. Lavrov accuses America of seeking to assassinate Putin
Russian Foreign Minister Sergey Lavrov said, on Tuesday, that the statements of US officials from the Pentagon about directing a "decapitation strike" to the Kremlin are, in fact, a threat to physically liquidate the head of the Russian state, in reference to Russian President Vladimir Putin.
According to what was reported by the Russian agency "TASS", Lavrov added, "Washington went further than everyone else. There, some officials from the Pentagon threatened to strike the head of the Kremlin. In fact, we are talking about a threat to the physical liquidation of the head of the Russian state."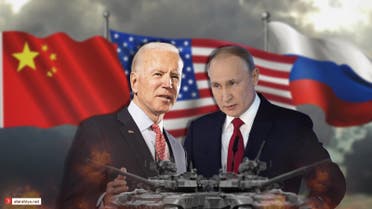 Russian President Putin and US President Biden
"If someone sponsors such ideas, he should think carefully about the possible consequences of such plans," Lavrov warned.
Lavrov also mentioned what was issued by Western officials, their actions, and their references to a nuclear confrontation, adding, "It seems that they have completely abandoned tact. It is clear that Liz Terrace (former British Prime Minister) announced during the pre-election debate that she is fully prepared to issue an order for a nuclear strike." ".
The Russian Foreign Minister referred to the provocations committed by the regime in Ukraine, saying: "Not to mention the extra-logical provocations of the Kyiv regime," noting that President Volodymyr Zelensky has reached the point of asking NATO countries to launch preemptive nuclear strikes on Russia.
He stressed, "This also goes beyond the limits of what is acceptable."