Smartphones will be available to common people on easy installments, Federal Minister Aminul Haque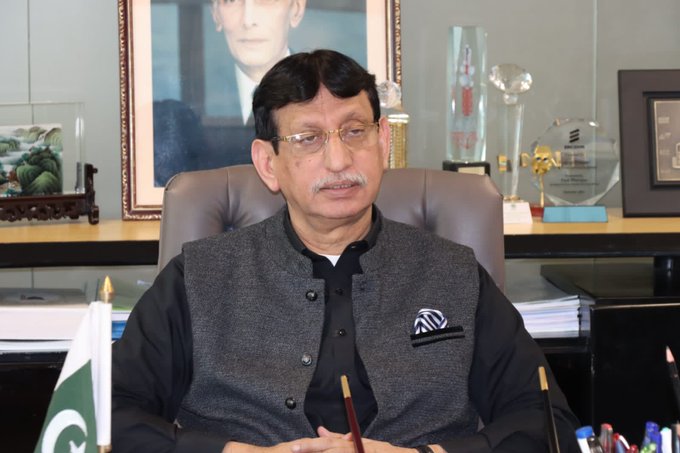 Islamabad. November 23 (APP): Federal Minister for Information Technology and Telecommunication Syed Aminul Haq has said that under the Smart Phone for All Scheme, the local company Qast Pay will provide the common man with easy installments with the support of GSMA. The facility of providing smart phones has been started, the phones will be given from 15 thousand to 1 lakh rupees in installments of 3 to 12 months, at present 19 companies are making smart phones in the country after obtaining the license.
The Ministry of IT has launched 28 new projects to provide communication facilities in remote areas. For such projects, the government has spent 65 billion rupees in the last four years. We are following the policy of empowering women. are
He said this while addressing a function held at a local hotel here on Wednesday. He said that the phones of those who do not pay the installments on time will be automatically locked due to a special lock system that can be used anywhere in the world. cannot be used. In the ceremony, Secretary IT Mohsin Mushtaq, Member Telecom, Member Legal, Member International Coordination, Julian Gorman, Head of GSMA Asia Pacific, Head of Policies Janet White, Chairman PTA Asim Azim Bajwa, Chief Executive Ufone M Hattam, Chief Executive Telenor Irfan Wahab, Chief Operating Officer Jaz, and a large number of personalities from the I&T Telecom industry participated.
In his address, Syed Aminul Haque said that it was necessary to ensure the availability of low-cost but quality smartphones to the people while the problems of connectivity provision and ITV telecom sector are being solved. Mobile manufacturing policy explained.
So far, 29 companies have been issued mobile phone manufacturing licenses, these companies are making millions of mobile phones, which has started exporting along with meeting the local demand. The next step was to ensure that the common man who cannot buy a smartphone by spending 10 or 20 thousand rupees at a time can get a mobile phone in easy installments. Through daily routines, you can promote your small business.
At such a time I gave my team the slogan "Smartphones for All" and directed to work on it quickly. Today is the day of fulfillment of this dream. I would like to firstly thank Julian Gorman, Head of GSMA Asia Pacific and Janet White, Head of Policies, for their continued support in organizing this event.
I would like to congratulate Asif Jafri, Chief Executive of Qast Pay, Usman Nasir, Consultant, who have provided their services for Smartphone for All." In order to fulfill this dream of "Smartphone for All", the facilities being provided by Qista Pay initially included smartphones worth Rs 10,000 to Rs 1 Lakh in easy installments on payment of 20 and 30% advance. can go.
One obstacle or problem in the provision of mobile phones on installments has been around the world that people buy phones on installments from one organization or company and use it by inserting a SIM of another company and do not pay the remaining amount. To avoid this default. Installment Pay has used a special system of "Google" under which if no one pays the remaining installments, it will be locked under this system, after which the phone will not be able to be "unlocked" from anywhere. It won't have a SIM, it won't have Wi-Fi, and it won't be usable anywhere in the world.
This is the formula of securing the phone and paying installments, which is definitely a safe means of providing phones under this policy to the best and deserving people. Along with this, installment pay will also provide the facility that after paying the price of the mobile phone, the same person can also get a loan of up to 30 thousand rupees so that he can improve or strengthen his small business. The amount of thousand may be less for those living in cities, but it will surely be a big help for our Pakistani brothers and sisters living in remote areas.
Syed Amin-ul-Haq asked mobile phone manufacturers, telecom companies, banks and financial institutions in Pakistan to come forward and provide mobile phones to the common people under the same formula under "Smartphone for All". I believe. It is said that in a very short period of time, the use of smartphones and connectivity will give rise to e-commerce in Pakistan, and if these millions of people earn even a few thousand, then the country's economy will benefit by billions of rupees.
Addressing the event, Chairman PTA Major General Retired Aamir Azim Bajwa said that banks, mobile companies and mobile manufacturers come forward and start the scheme in this manner, they will be provided with all possible facilities. In his welcome address, Julian Gorman said, "A connected population is the key ingredient for a digital nation that flows from digital economic growth, empowered industry and better livelihoods for entrepreneurs and every citizen.
We must embrace the need to enable every individual with a smartphone and appreciate the Ministry of IT and Telecommunication and KistPay for their bold commitment to smartphones for all of Pakistan. Chief Executive Officer Asif Jafri briefed the participants about the company and the scheme.
On this occasion, the heads of telecom companies in a panel discussion mentioned the bright future of telecom in Pakistan, challenges and initiatives and said that under the leadership of Federal Minister for IT Syed Aminul Haq, they hope that Digital Pakistan vision will be fulfilled soon. .
The news is published by EMEA Tribune & Associated Press of Pakistan