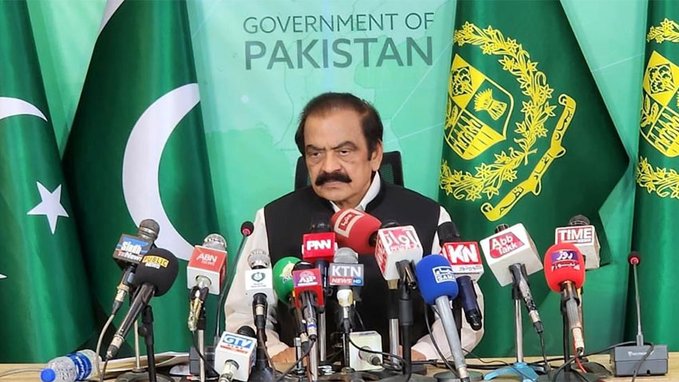 Islamabad. May 13 (APP): Federal Interior Minister Rana Sanaullah has said that Imran Khan is not a political leader but a sedition, who has prepared groups during a year to promote sedition, defense installations, sensitive Burning institutions, ambulances, vehicles, building of Radio Pakistan, looting the cattle market first and then burning it is not the work of any political party but the work of the group which started this fitna, 40 to 45 across the country. Thousands have been recorded who have damaged the property of 23 crore people, no exception will be taken from those involved in mischief, people have seen the face of this temptation which will be reduced by the power of vote.
Addressing a press conference on Saturday, the Interior Minister said that in the incidents that took place in ICT, Punjab, KPK, Balochistan, Sindh and GB on May 9, 10 and 11, forty to forty-five thousand miscreants were killed. Imran Khan had trained and prepared mischief during a year, badly damaged public and private property and the nation has bowed its head in shame in these incidents. He said that it is not a political culture to attack defense institutions and people's houses. In the past, there used to be differences among political parties, but such attacks were not carried out.
He said that there were protests at eleven places in ICT on May 11, protests were held at 31 places in Punjab on May 11, protests were held at 126 places in KPK and defense installations and sensitive buildings including the building of Radio Pakistan were set on fire. has been. The records of all these incidents have been collected and the process of identification of the persons involved is going on. He said that 40 thousand miscreants cannot represent 23 crore people in any way.
It is a matter of concern for the entire nation that a person who looted 60 billion rupees and was arrested by NAB, whose documentary evidence he himself cannot deny, is illegally taken to the UK by a business tycoon. were captured by the British government and referred to the government of Pakistan, but instead of putting this money in the national treasury, Fitna Khan invested it in the Al-Qadir Trust in the name of himself and his wife and illegally returned it to Malik Riaz and Farah Gogi. also transferred money in the name of and gave a share to Shahzad Akbar who is currently absconding from the country.
He said that the political parties do not organize gatherings and people are incited to mischief through video audio messages and social media networks and when the criminal appears in the court, he is given such a big relief which is unprecedented in history. It is not found, it is explained in the official guest house, guests of choice and table are provided and in addition to the registered cases, those cases which have not been registered yet, guarantees are given which is a matter of concern. He said that a case has come to the fore in four years, the account of what favors have been given, the nation should also understand this temptation and the people should reduce this temptation with the power of vote.
The Home Minister said that the government will hold accountable all the members of this gang, as many miscreants are being identified through CCTV, videos and other means, no one will be spared, full honesty and justice. By fulfilling the requirements, only the culprits will be brought to their logical conclusion and action will be taken against the ringleaders as well. On this occasion, he also presented to the media the alleged audios of PTI's top leaders inciting sedition, which have gone viral on social media, and in which one can hear how the protestors against the arrest of Imran Khan have been accused by sensitive institutions. And attacks on martyrs' memorials and sensitive buildings were incited and facilitated to provide relief to Fitnah.
In response to a question, he said that no innocent person will be punished and those who are the real instigators will be brought to justice. Rana Sanaullah said that all the people who came for aggression did not register any political protest but all those people were ready for riot and damaged public and private property. People who cannot be identified from national records will adopt separate methods to identify them so that no miscreant can escape. In response to a question regarding PDM's protest, the Home Minister said that protest is everyone's right, but for this permission is taken from the administration. It is hoped that PDM will also adopt the same procedure and comply with the legal requirements. Will take care of.
He said that political parties have been getting permission even before this. In response to a question, he said that the arrest was made by NAB and police rangers are already deployed at these places. In response to a question, the interior minister said that under Article 245, the army is called to assist the civil administration, just as the civil administration calls for force to take action against dacoits in the Kutch area, Punjab lacked force and The Rangers also could not be supplied in excess which led to the army being called up.
In response to a question, he said that the government, judiciary and institutions play their respective roles and the decision has to be taken by the people. The media can investigate the data given to the media. In response to another question, the Home Minister said that there was no sense of mischief on May 9 and 10 and everything was under control on May 11. The attacks took place in the first two days after which the law enforcement agencies brought the situation under control. What did
The news is published by EMEA Tribune & Associated Press of Pakistan