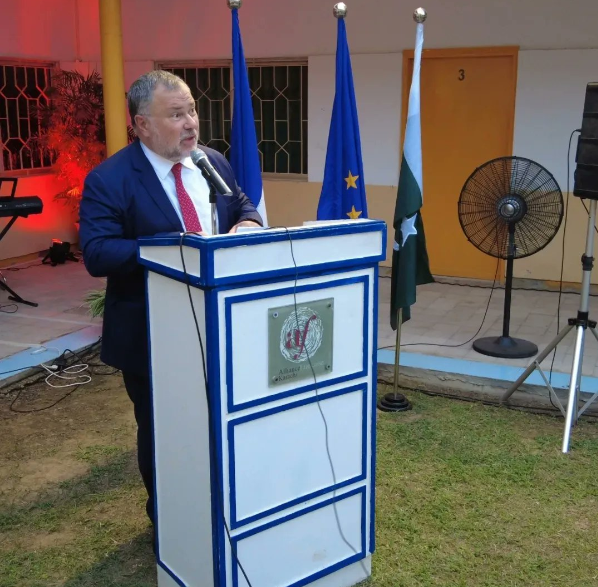 Islamabad. May 20 (APP): French Ambassador to Pakistan Nicolas Guille said that the French Embassy will increase educational opportunities for Pakistani youth in France by providing educational scholarships and strengthening the France-Pakistan campus office. Addressing the French Alumni Day in Islamabad on Saturday, he said that the mission of the office of France Pakistan Caps.
The aim is to promote education in France and support the establishment of links between students so that they can take advantage of the wide range of higher education opportunities in France where English is taught in most institutions. He said that he is the best ambassador of higher education in France and a willing medium to explain to Pakistanis the experiences of academic life in France.
He said that the two countries are working to increase bilateral relations and cooperation, especially in higher education. The Ambassador of France said that this day is being celebrated to reunite hundreds and thousands of people from all countries who received their higher education and professional training, or part of it, at French universities or other educational institutions.
He emphasized that French Alumni Pakistan is a platform for Pakistanis who have studied in French universities and can encourage the younger generation to choose these prestigious institutions to build a successful career. Choose reputable institutions. He said that the relationship between Pakistan and France in higher education dates back to the early 1960s, adding that recently the number of Pakistani students had declined. However, the French Embassy is determined to change this situation with the cooperation of the Pakistani authorities.
He said that efforts to increase the number of Pakistani students in French universities began in 2003 when HEC started a scholarship program for Ph.D. in France. So far 670 Pakistani students have received higher education in France. French Ambassador to Pakistan said that the French government and universities fund 30 scholarships annually for Pakistani students. He said that dozens of students get scholarships in European countries every year.
The news is published by EMEA Tribune & Associated Press of Pakistan