Video from inside the stricken Nepali plane documenting the moment the fire broke out
A passenger of the stricken Nepalese plane captured a video clip with his phone camera seconds before the plane crashed and caught fire, killing all 72 people on board.
One of the passengers appeared smiling as he captured scenes from inside and outside the plane before the plane crashed and flames appeared in the last seconds of the clip.
All passengers killed
In addition, the "Yeti" airline in Nepal confirmed the death of all 72 people on board the stricken plane, in the worst air disaster witnessed in this Himalayan country in three decades.
"31 (bodies) have been taken to hospitals," said police official AK Chhetri, adding that there were still 36 bodies in the 300-meter-deep valley where the plane fell.
Bodies at the crash site
This was partially confirmed by the army, as its spokesman stated that 29 bodies had been recovered and that there were still 33 other bodies at the crash site of the plane, which was carrying 72 people.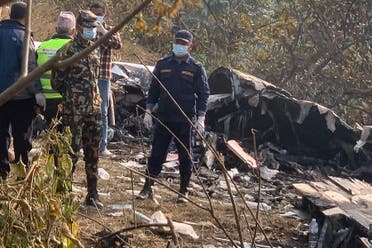 Nepalese plane (AFP)
I fell into a ravine
The plane from the Nepalese capital, Kathmandu, crashed Sunday morning near the local airport in Pokhara in central Nepal, where it was scheduled to land.
This city is a gateway for religious pilgrims and visitors from all over the world.
"The plane fell in a valley, so it is difficult to remove the bodies," army spokesman Krishna Prasad Pandari told AFP, stressing that "the search and rescue is continuing." "No survivors have been found yet," he added.