In St. Petersburg… Putin's talks with his Belarusian counterpart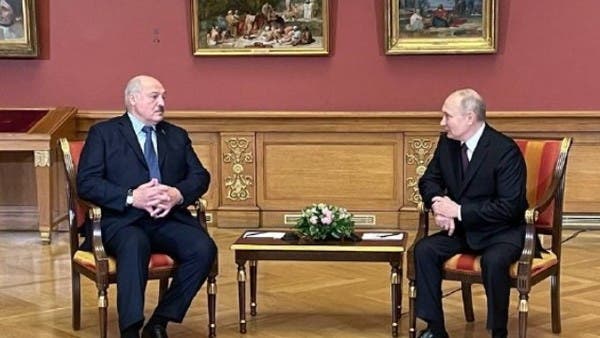 Russian President Vladimir Putin and his Belarusian counterpart Alexander Lukashenko held talks at the Russian Museum in Petersburg, according to a reporter for the Russian "Novosti" agency.
As the Kremlin leader announced, the format of the CIS summit meetings bears an "informal" character.
Informal meetings
"Informal" meetings of the heads of the Commonwealth of Independent States were held in St. Petersburg on December 26 and 27 at the initiative of the Russian president, and included the heads of Belarus (Alexander Lukashenko), Azerbaijan (Ilham Aliyev), Kazakhstan (Kassem Jomart Tokayev), Tajikistan (Imamali Rahmon) and Turkmenistan. (Serdar Braidi Mammadov), Kyrgyzstan (Sadir Japarov), Uzbekistan (Shavkat Mirziyoyev) and Armenia (Prime Minister Nikol Pashinyan), according to what was reported by the "Novosti" agency.
We are preparing for war
Last Thursday, Belarusian President Alexander Lukashenko confirmed that a war against his country could not be ruled out, stressing readiness for that scenario.
He added, "There are countries on our borders seeking to create tensions, and we will respond to them immediately," noting that the armed forces will remain in a state of permanent deployment until further notice.
Putin in Belarus.. and fears in Ukraine of a joint attack
Lukashenko's remarks come two days after a rare visit by Russian President Vladimir Putin to Minsk.
Russian President Vladimir Putin stressed during the visit that his country will not swallow Belarus, calling for strengthening military relations with this ally country.
Before Putin arrived in Minsk, Moscow announced that its military forces were conducting military exercises with the Belarusian forces.
In October, Belarus announced the creation of joint regional forces with Moscow, to which thousands of Russian recruits joined, while it did not clarify where the military maneuvers would be held and how long they would take place.
The deployment of Russian soldiers in Belarus has also raised fears that Belarusian forces will join military operations in Ukraine.