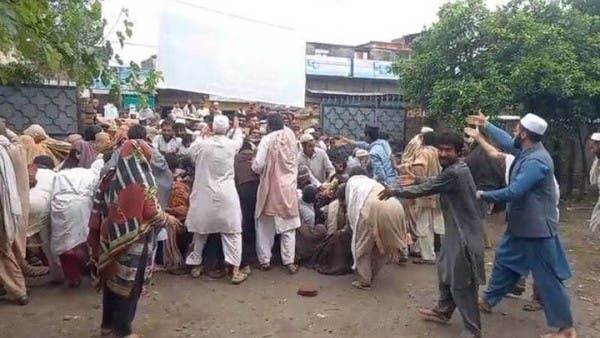 11 people including 3 children and women died in a stampede during the distribution of ration and zakat in a factory in the site area of Karachi, while many women became unconscious.
According to the rescue officials, the dead and injured have been shifted to Abbasi Shaheed Hospital.
Due to the large number of people coming, the factory management called the police, SSP Kemari has said that the situation has been brought under control.
According to rescue sources, ration was being distributed in the factory located in Norris Chowrangi site area, large number of people including women were present during the distribution of ration.
At the site area Siemens Chowrangi, a man named Abdul Khaliq, the owner of the factory, was distributing rations without informing the police. During the distribution, a stampede broke a water pipe due to which the entire plant was flooded.
According to hospital sources, the condition of several injured is critical, there is a fear of an increase in casualties, according to the hospital administration, 8 dead bodies were brought to Abbasi Shaheed Hospital due to a stampede in the site area and falling into the drain, so far 4 injured have also been brought to the hospital.
Statement of SSP Kemari
According to SSP Kemari Fidah Hussain Januri, the factory management did not inform the police and the district administration, no information was given to the police regarding the distribution of ration and zakat, the police reached the spot and detained 3 people including the factory manager. I took
Fida Hussain Januri said that the detained persons belong to the factory administration, more persons from the administration will also be detained soon, the inquiry of the incident was handed over to SP Site Mugheez Hashmi, after the completion of the inquiry. Legal action will be taken.
Sindh Chief Minister
Sindh Chief Minister Syed Murad Ali Shah took notice of the Simmons Chowrangi incident and asked for a report from the Commissioner Karachi. He expressed deep sorrow over the loss of life and directed for better treatment of the injured.