The American "Fox News" channel has learned that the New York City judge overseeing the trial of former US President Donald Trump has received death threats, after which his security has been increased.
Threats against Manhattan Supreme Court Justice Joan Mershan began about a week ago, but escalated Tuesday after Trump indicted her on 34 felony counts of falsifying business records.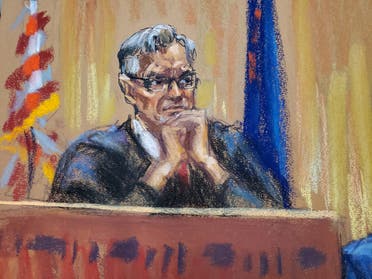 Sketch by Justin Juan Marshan
Trump became the first former US president to face criminal charges but pleaded not guilty to the charges against him.
"Chambers has received the expected spam and defamatory calls and emails, all of which are being reviewed," Court Administration Office spokesman Lucian Chalfin told Fox News.
"Over the past weeks we have continued to assess security concerns and potential threats and maintain a security presence in and around the courts and throughout the district. We will adjust protocols as needed," he added. "
Two court officers escort Marshan to and from work, a precautionary measure that began about a week ago.
New York police are currently evaluating whether to station officers outside the judge's home in light of the growing threat, a law enforcement source said.
Sources added that no court security personnel could be deployed to protect the Mershan family, but the New York Police Department could provide them with details.
"It's appalling, and we condemn anyone who engages in this type of behavior," Trump's defense attorney, Joe Tacopina, told Fox News.