Kim: Efforts must be made to overcome North Korea's challenges
North Korean leader Kim Jong Un called for more efforts to overcome the "difficulties and challenges" facing his country.
This came as Kim inaugurated a major annual meeting of the ruling Workers' Party, after conducting a record number of missile tests this year.
Instead of a New Year's speech, leader Kim Jong-un has in recent years used this end-of-year meeting of the Workers' Party of Korea as a platform to announce the country's policies in key areas such as diplomacy, security and the economy.
Significantly increased strength
The official news agency quoted Kim as saying in his report to the meeting that North Korea's power "has increased significantly in all fields, political, military, economic and cultural."
She also added that the meeting's agenda includes an evaluation of the policy that was implemented in 2022 and a study of the next year's budget, without further details.
The official Korean Central News Agency reported on Tuesday that the party meeting was held in Pyongyang on Monday to review last year's projects and discuss work plans for the coming year.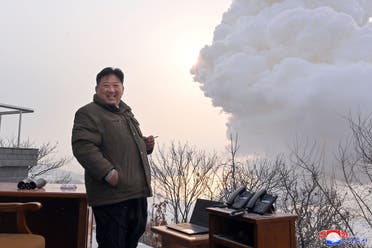 North Korean leader Kim Jong Un – Archives from Reuters
Kim is also likely to use the meeting to reaffirm his intention to expand his nuclear arsenal and introduce high-tech weapons targeting the United States and South Korea while planning projects to revive livelihoods damaged by the coronavirus, according to some experts.
In his opening remarks, Kim compared the hardships and challenges since the party congress in early 2021 to "the ten-year revolutionary struggle."
But he claimed that his country had achieved some successes "in this arduous path" and that Pyongyang's strength had "increased significantly in the political, military, economic and cultural fields".
Brilliant achievement
"Chairman Kim stressed the need for more exciting and confident strategies based on the valuable facts that the country has achieved practical progress after enduring all difficulties," the KCNA said.
She added that Kim reviewed the "remarkable achievement" achieved this year, and explained the "strategic and tactical tasks" to achieve the goals of North Korean socialism.
The agency did not clarify the achievement that Kim claimed to have achieved, and the tasks he set, and the Associated Press could not independently confirm these achievements.
allegations to attract popular loyalty
Some observers say Kim may need such allegations – driven by the party's propaganda machine – to attract greater public loyalty to advance difficult projects aimed at bolstering his arsenal and solving economic problems as he faces US-led sanctions and pressure campaigns to curb his nuclear ambitions.
The Workers' Party meetings are also expected to last for several days, during which Kim will address issues such as mobilizing army weapons, relations with the United States, and the economic file, during subsequent sessions.
The meeting comes after months of warnings from Seoul and Washington that Pyongyang is about to conduct its seventh nuclear test.
New marches.. and Seoul accuses
And Monday, South Korea accused its North neighbor of sending a number of drones that crossed its borders, which prompted Seoul to deploy warplanes and fire warning shots to repel them.
This year, Kim conducted a record number of missile tests, most of which carry nuclear warheads capable of reaching the mainland of the United States, South Korea and Japan.
And after he oversaw the launch of the "giant" Hwasong-17 missile last November, Kim said he wanted his country to become the world's most powerful nuclear power.
The North Korean leader also confirmed that he would not resume talks with the United States unless it backed down from its "hostile policies", in a clear reference to sanctions and regular military exercises between Washington and Seoul.