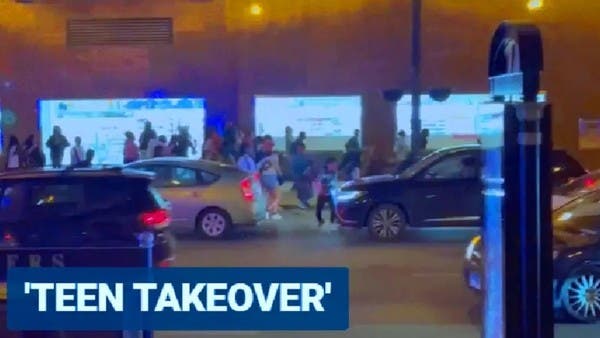 In the US state of Chicago, boys became obsessed and a large number of boys took control of the main streets of Chicago. The boys started smashing the parking lots of the passing cars. Attacks on pedestrians also started. Tourists were also tortured by fanatical boys. According to the American TV network Fox News, people started running in panic after hearing the sound of gunfire.
Media reporters and coverage crews rushed to the spot. Groups of boys started blasting music through bluetooth speakers and wandered between sidewalks and streets. Dozens of boys tried to reach Millennium Park, an art institute in Chicago. Please note that access to Millennium Park after certain hours is prohibited for persons under 21 years of age.
Members of the group of boys came onto the road and jumped up and down on the cars. They broke their windows and assaulted those inside, including the husband of a woman. The driver of his car attacked the boys and the boys beat him badly.
Hundreds of policemen and officers, with the help of special SWAT teams, tried to restore the lost order of the city center. There were frequent reports of gunfire in the area and the area looked like a scene from a Hollywood horror movie where police escorts were seen. Tourists huddled in their cars or hotels to avoid the chaos. Traffic on the main road came to a standstill.
With reference to the police, it was reported in the local media that one bullet hit a 6-year-old child in the arm and the other one hit a 17-year-old boy in the leg. Both of them were shifted to a nearby hospital. The police brought the matter under control and all the boys dispersed.