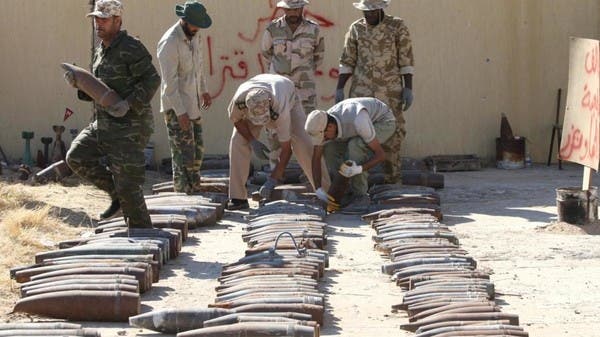 In the Libyan city of Al-Khams, east of Tripoli, a large cache of arms and ammunition was recovered from a citizen's house as a result of a dispute between two neighbors.
The massive weapons were discovered by chance when security forces intervened to end the clashes. In this dispute, a neighbor used an RPG launcher to attack the house of his disputant neighbor.
Armory at home
Libya's Interior Ministry, affiliated with the coalition government in Tripoli, released a statement detailing the incident. This incident happened on Tuesday. As a result of this incident, a large consignment of arms, ammunition and launchers was seized from a house in Al-Khams city.
The ministry clarified that the Al-Khams Security Directorate received a complaint from a citizen that a person had attacked and tried to kill him. Investigating members of the Criminal Investigation Department immediately apprehended the complainant and handed him over to the public prosecutor.
It was told that during the investigation of the defendant in the incident on behalf of the Fifth Part Prosecution, the presence of arms came to be known and then a consignment of arms was recovered from the house.
Horrible proliferation of weapons
The proliferation of weapons among the Libyan people has become a cause of alarming concern. Ordinary citizens are living in the midst of armed men around them. This situation has become a real threat to efforts to restore security and stability in the country.
It should be noted that since the fall of Colonel Gaddafi's regime in 2011, weapons have spread widely among civilians. During all these years, none of the successive governments have been able to find a solution to this problem. So far, these arms have not been collected and no clear mechanism has been put in place to persuade people to return them. State agencies impose severe penalties on those who take arms out of the state.
The proliferation of arms has created chaos in the country. The country is suffering from terrible crises one after another. Civilian casualties have increased due to this weapon. It is now common for every citizen to carry a pistol, Kalashnikov, rifle or other weapon in his personal car.
According to the United Nations report, the number of uncontrolled weapons outside the control of the state in Libya has reached 29 million. Due to this, the country has become chaotic. In these reports of the United Nations, Libya has been described as the largest stockpile of uncontrolled weapons in the world. According to an estimate, there are around 150 and 200 thousand tons of weapons in Libya.