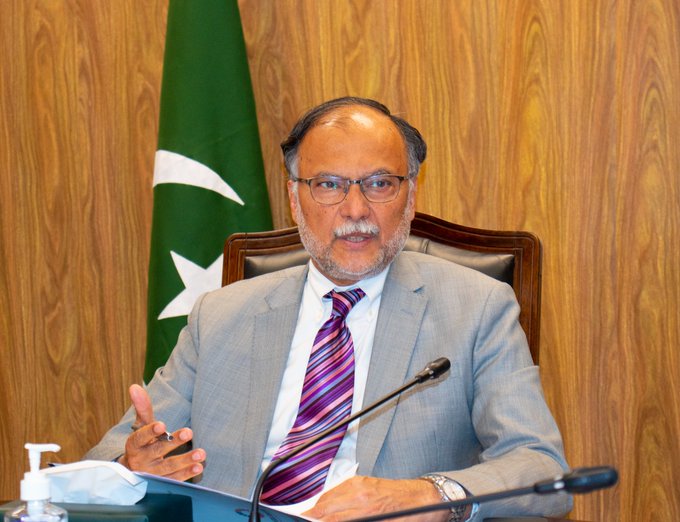 Islamabad, November 29 (APP): Federal Minister for Planning, Development and Special Measures Ahsan Iqbal paid tribute to the late journalist Ziauddin on his first death anniversary and awarded him the country's third highest award for services in the field of journalism. has announced the award of Aizaz Satara Imtiaz, this award will be received by his family on August 14, 2023.
The federal minister made this announcement while paying homage to the late journalist during a condolence reference organized by the Ministry of Planning. The event was attended by civil society workers, journalists and people from different walks of life. Late Ziauddin passed away on November 29, 2021 in Islamabad at the age of 83 after prolonged illness. During his illustrious career spanning 60 years, late Ziauddin worked extensively for almost all the major newspapers of the country, including The Muslim, The News, Dawn and The Express Tribune.
Speaking on the occasion, the Federal Minister paid tribute to the late journalist and said that late Ziauddin was a great journalist as well as an excellent human being whose services are a great example for Pakistan and the field of journalism. It should be noted that this is the first time in the country's history that the government paid tribute to a journalist for his outstanding services in the field of journalism.
The participants appreciated the efforts of Ministry of Planning on this initiative. The Federal Minister also announced the establishment of Development Communication Department in the name of late Ziauddin in Pakistan Institute of Development Economics (PID) for young students and the launch of courses for journalists in the name of late journalists for the convenience of young journalists. . Speaking on the occasion, the participants paid great tribute to late Ziauddin who dedicated his entire life for free journalism, democracy and the betterment of media workers.
Well-known journalist Hamid Mir paid tribute to late Ziauddin and said that he was one of the journalists who stood against the dictators of the country and faced the worst period of General Zia and General Musharraf. Hamid Mir said that till his death late Zia tried to unite the journalist community which was divided by various dictators and today his unfinished agenda of uniting the journalist community for rule of law and democracy in the country is full time. It is very much needed.
Senior Journalist Mutiullah Jan while paying great tribute to the late journalist emphasized the proposal to compile all the works of late Ziauddin so that young journalists can benefit from it. On this occasion, senior journalist Rauf Klasra paid great tribute to late journalist Ziauddin and said that journalists like Ziauddin are born in centuries who never compromised on journalistic principles in their entire life.