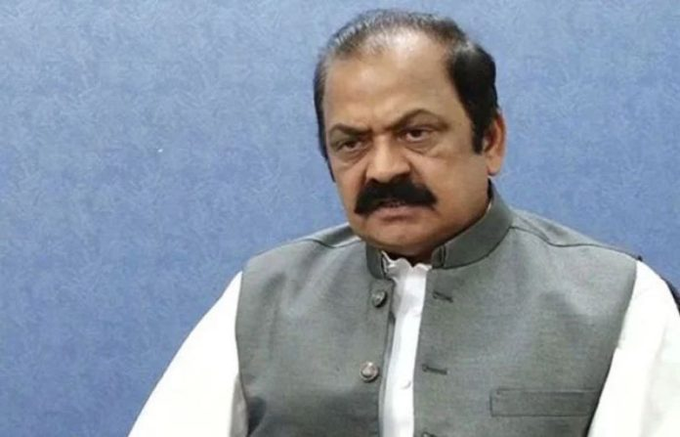 Islamabad. May 26 (APP): Federal Interior Minister Rana Sanaullah Khan has said that Military Act applies to those who go, send and help to go to prohibited areas, Official Secrets Act and Military Act apply there. It happens to be a place related to defence. While Jinnah House was the residence of the Corps Commander and the camp office, there were also very sensitive items. Areas, those who attack defense installations will be tried under the Army Act
The cases of those who damage and vandalize government property will be tried in civil and special courts, 33 people from Punjab and KPK have been handed over to the military authorities, who will be tried in military courts, out of 499 only There are 6 FIRs which are being processed, only 6 FIRs can possibly be tried in a military court. He was addressing a press conference here on Friday.
Interior Minister Rana Sanaullah said that the politics of hatred was being introduced into the society like a virus and an attempt was being made to dirty the politics of Pakistan under a program, under a program to seize the country's capital. He said. That Imran Khan was continuously doing hate politics for a year, he was supposed to attack Islamabad on May 25 in hate politics, under a program people were trained to make petrol bombs, Imran Khan is the name of a fitna. If the nation does not identify and realize this fitna, this fitna will endanger the nation, before this fitna would have exposed the country to an accident, it has exposed itself and its party to an accident.
He said that a total of 499 FIRs were registered on the incidents of May 9, in which more than 5 thousand people were arrested, 80 percent of them were on bail, 3944 in ATA cases. The persons were arrested and 88 cases were registered under the Anti-Terrorism Act. The Home Minister said that objections are being raised that the Military Act is being applied to civilians, those who go to restricted areas, those who send them and those who help them to go. The Military Act seems to be, the Official Secrets Act and the Military Act apply to any place related to defence. While Jinnah House was the residence of the Corps Commander and the camp office, there were also very sensitive items, the items taken from Jinnah House if any. If it is used by a neighboring country, will it be a political protest? He said that whenever the accused goes to the prohibited areas, there is no need to make a new law.
There is a law on this, so if someone enters a defense related area, he can be tried under the Official Secrets Act. He said that the events of May 9 and different things were coming out in front of everyone, I was silent until today that I will speak when the facts are fully revealed and I will do the facts that I will present with full responsibility. He assured that those who are not involved in the events of May 9 will not be included in the cases. The Interior Minister clarified that there is no need for any legislation or amendment regarding the cases in the military courts. He said that the military authorities They will investigate the cases but not the full trial shift to see where the Military Act or the Official Secrets Act applies to the case.
Giving an example, he said that if there are 10 out of 300 accused in an ATA case who have violated the Military or Official Secrets Act, then the military trial will be limited to them only and the trial of the rest of the accused will be normal. They will go to court. Referring to the riots in Capitol Hill by Trump supporters in Washington, he said that there were no such facilities. But the photo was taken, he was sentenced to 4 years. Zalmay Khalilzad did not tweet.
They do not see any violation of human rights there. He said that it cannot be said about the events of May 9, but perhaps Allah intended the good of this nation that He would have taken this fitna in such a form that He would have caused the nation and the country to suffer an accident. You and your party suffered an accident. He said that the events of May 9 gave an opportunity for the nation to realize this calamity and purify its existence from it.
The news is published by EMEA Tribune & Associated Press of Pakistan