Netanyahu: We will act forcefully to abort the Iranian position in Syria
Israeli Prime Minister Benjamin Netanyahu said today, Wednesday, that "Israel will act firmly and forcefully to thwart Iran's military entrenchment in Syria."
Netanyahu added, "Israel will relentlessly fight Iran's intention to develop a nuclear arsenal, in various ways, professionally, and openly in front of world public opinion."
Yesterday, Tuesday, Netanyahu said that Israel would do everything in its power to prevent a return to the nuclear agreement between Iran and world powers, considering that the agreement would lead to a "nuclear Iran under international auspices."
Netanyahu added, in statements during a cabinet meeting, that Israel would act "publicly from a position of strength" in the international arena against a return to the nuclear agreement.
Netanyahu also stressed that Israel will take "firm measures to prevent Iranian military entrenchment in Syria and elsewhere," saying, "We will not wait."
Netanyahu's talk about the Iranian position in Syria comes after the killing of four people, including two Syrian soldiers, as a result of an Israeli bombing that targeted Damascus International Airport at dawn on Monday, putting it out of service for hours.
The Syrian Observatory for Human Rights reported that Israeli raids targeted, at dawn on Monday, "locations of the Lebanese Hezbollah and pro-Iranian groups inside and around the airport, including a weapons depot," which resulted in destruction inside the airport.
The bombing, according to the Observatory's director, Rami Abdel Rahman, killed "four members, including two Syrian soldiers," while he was unable to determine the identities or nationalities of the other two members.
This is the second time that the main Damascus airport in the country has been out of service since June 2022, when an Israeli bombing led to the suspension of all flights for about two weeks after severe damage to one of the runways.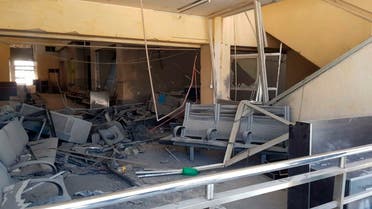 Damages caused by a previous Israeli bombing of Damascus airport last June
There was no official comment from Israel, which launched hundreds of air strikes in Syria over the past years, targeting Syrian army sites and Iranian and Hezbollah targets.
Tehran confirms the presence of elements of its armed forces in Syria on advisory missions. Since 2013, the Lebanese Hezbollah, backed by Tehran, has been fighting openly in Syria in support of the regime forces.
Israel is constantly launching strikes targeting sites of both parties and depots of weapons and ammunition in the vicinity of Damascus and inside civilian and military airports in separate areas.
Israel rarely confirms carrying out strikes in Syria, but it repeats that it will continue to confront Iran's attempts to consolidate its military presence in Syria.