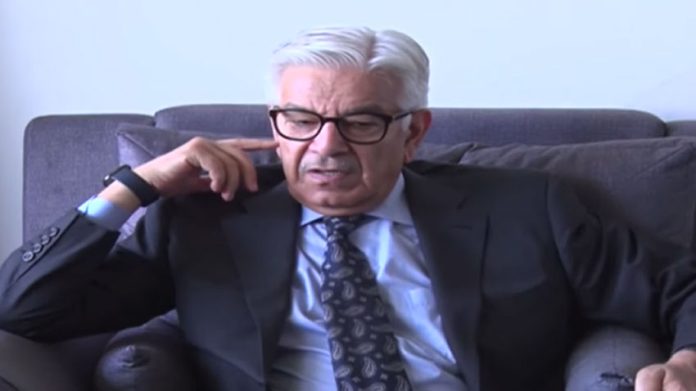 Islamabad. May 24 (APP): Defense Minister Khawaja Muhammad Asif has said that there is no precedent in the 75-year history of Pakistan for the events of May 9, when martyrs were humiliated, military installations were attacked, and there was no planning behind it. There were heinous motives, Pakistan is reviewing the ban on Tehreek-e-Insaaf for violent incidents and attacks on military installations, Imran Khan has considered the army as his rival, the arrested accused are saying that these plans were planned in advance.
The steps taken by Imran Khan were celebrated in India. Talking to the media in Islamabad on Wednesday, he said that the evidence that has come out of the May 9 incidents makes it clear that all this was done under a plan, his own people are confirming it. That it was planned for a year and many evidences came out and his own people admitted that Imran Khan briefed him many times that if he is arrested then he has to do all this in response. was the last resort, such ambitions can be of India but not of any Pakistani, these actions of Imran Khan were celebrated in India and it was said that this is an attempt to advance our interests, in the past Muslim League (N) ) and PPP also had differences but never such extremism or army was targeted.
Imran Khan is making the army a party in his power struggle. He said that on May 9, the Corps Commander's house was attacked for nefarious purposes, the building of Radio Pakistan in Peshawar was burnt, martyrs' memorials and military installations were targeted. All this was planned. He said that they are reviewing the ban against Tehreek-e-Insaaf for targeting their forces and humiliating the proud sons and martyrs of the nation. He said that the state's writ was never challenged in this way in the past. Imran Khan challenged the state's writ. And attacked on ideological grounds, which is a crime that didn't happen on May 9
5 people were killed in Gujranwala, an attempt was made to enter the cantt in Sialkot, ISI offices were attacked, the sacrifices of Colonel Sher Khan Shaheed were insulted. In response to a question, he said that all the politics of Imran Khan grew up in the lap of the army, today he has considered the army as his rival, people were facilitated to reach the military installations. Imran Khan has not condemned these incidents in clear words till date, he is saying that he was arrested, he had phone facility there and he was releasing videos in which he was threatening that if If he is arrested again, the reaction will be severe. He said that after what happened to Bhutto, Benazir and Nawaz Sharif in this country, there were no attacks on the cantonment, there were no attacks on the military installations, no such action was taken even after what happened in the 2018 elections. In 75 years, there is no example of May 9-style incidents.
In response to a question, he said that if the army is determined to remain detached from politics and play its constitutional role, then it is our responsibility to respect its role, it should not be dragged into politics. In response to a question, he said that the reservations of the military organization regarding May 9 are legitimate. We will take every step so that in the coming days no one can make the forces a target of their politics, their dignity will not be affected. May 25 is being celebrated as Martyrs Day. Martyrs are respected all over the world. Yes, they are martyrs of the country and nation, their sacrifices are always remembered.
In response to a question, he said that after April 9, all the measures of Imran Khan failed, he resigned from the assemblies, dissolved the assemblies and went to the courts to withdraw the resignations and restore the assemblies, they have lost their mental balance. He has damaged himself by his own actions, his party is crushed under the burden of his wrong decisions, his party is suffering from internal disintegration, it is sad how these people could follow a leader like him for many years. However, these were not political workers, they tried to impose martial law but they failed in their trick, it was a gamble they played and they lost in it. In response to a question, he said that there is no pressure from the international establishment, we have our own interests.
The news is published by EMEA Tribune & Associated Press of Pakistan