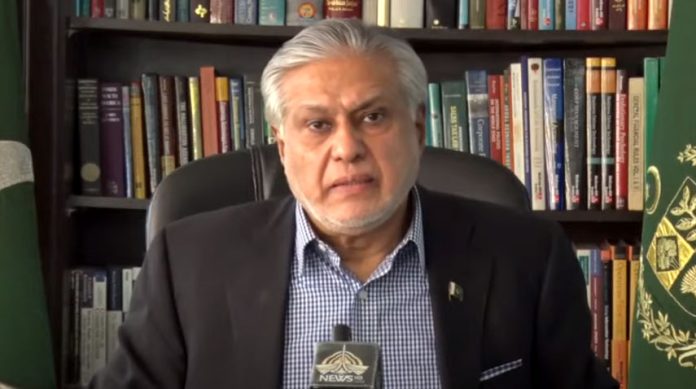 Islamabad. April 12 (APP): Federal Minister for Finance and Revenue, Senator Muhammad Ishaq Dar, has said that Pakistan has completed all the preliminary steps regarding the 9th review under the Expanded Fund Facility and the government of Pakistan has fulfilled its obligations with the IMF. I am determined. He said this in a Zoom meeting with the IMF team on the sidelines of the annual spring meeting of the International Monetary Fund and the World Bank here on Wednesday. did
On this occasion, Minister of State Dr. Ayesha Ghos Pasha, Special Assistant Revenue Tariq Bajwa, Special Assistant Tariq Mahmood Pasha were also present, Ambassador of Pakistan to America Masood Khan, Governor State Bank Jameel Ahmed, Secretary Finance and Secretary Economic Affairs Banafs Nafees were also present in the meeting. The parties reviewed the ongoing program between Pakistan and the IMF, especially the discussions held during the visit of the IMF mission to Pakistan and the implementation of the preliminary measures. Because of which he could not make the canceled visit to Washington, he is participating in the meeting of IMF and World Bank through Zoom from Pakistan.
The Finance Minister briefed the IMF team about the economic challenges facing Pakistan. He also told about the vision of the current government for the stability of the country's economy. Committed to meeting obligations.
The Finance Minister said that the program with the IMF was successfully completed during his tenure as the Finance Minister in the previous PML-N government. Director of IMF for Middle East and Central Asia, Jihad Azar, expressed the belief that after the approval of the IMF Board, the staff level agreement with Pakistan will be concluded soon.
He expressed hope that reforms in various sectors will continue in Pakistan and the IMF program will be completed on time. He said that the International Monetary Fund will continue its positive role for the stability of Pakistan's economy. I appreciate the cooperation of Jihad Azar and the IMF team with him.
The news is published by EMEA Tribune & Associated Press of Pakistan