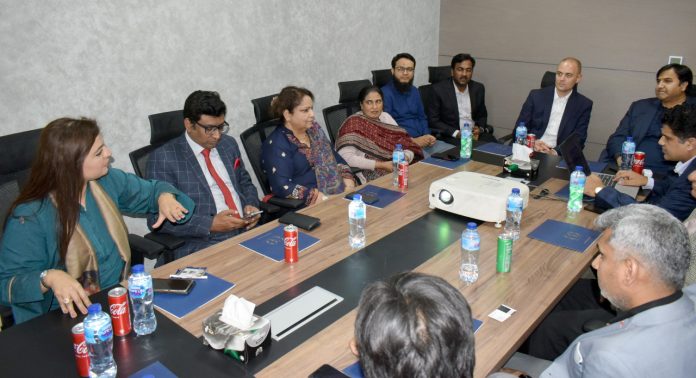 Islamabad. November 24 (APP): World Trade Center Utah, USA Chief Executive Officer Miles Hanson has said that we are keen to strengthen our economic relations with Pakistan and promote bilateral trade relations. He said this while visiting the head office of Pakistan Furniture Council (PFC) and Chin One chain of stores here on Thursday.
WTC Utah is working together to promote prosperity and economic cooperation, as part of an international ecosystem of global connectivity and integrated trade and investment services. WTC Utah has direct access to the expertise and services needed to compete and succeed globally, he said. Our mission is to accelerate growth through our global networks, programs and services, he said.
He said that we are looking forward to better cooperation and investment opportunities with Pakistan in various fields. Mian Kashif Ashfaq, CEO of Pakistan Furniture Council and Chin One Interiors welcomed the delegation and said that there are vast opportunities for foreign direct investment in Pakistan as the US is a major market for Pakistani exports and an important trading partner for decades. Is.
They discussed in detail the possibilities of joint ventures in the field of interiors, apparels and world-class handmade furniture products. He briefed the delegation about the Pakistani products that can be exported to the US which are of the best quality and are the most affordable compared to other countries globally. He said that we will welcome all American businessmen who want to visit Pakistan to explore the possibilities of mutual cooperation and investment. On this occasion, members of the delegation, Edward B. Rowe, CEO of Sterling Foundation Utah, Owais Ahmed, Muslim Civil League Utah and members of Rotary Club Lahore were also present.