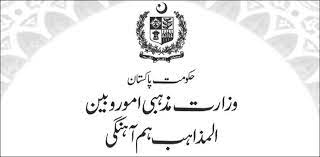 Islamabad. April 30 (APP): The Ministry of Religious Affairs and Interfaith Harmony has emphasized the active role of the media and people associated with it in order to deal with blasphemous content on social media. Along with discouraging content, public awareness regarding relevant laws and government initiatives is also very important to address it. Insulting content on social media should be reported immediately to PTI, FIA or Ministry of Religious Affairs.
According to the details available from the Ministry of Religious Affairs and Interfaith Harmony, the Ministry has formulated comprehensive guidelines keeping in mind the important role of the media to prevent blasphemy content on social media, according to which at present there are approximately More than 10 crore people are using social media and the evil of profane and abusive content on this platform is spreading rapidly.
In this regard, an example was given and it was said that the spread of the content can be inferred from the fact that four people together formed a blasphemy group in 2019. In 2022, FIA cybercrime caught these four, but when they were arrested, the number of members of this group had increased to more than 32 thousand, so controlling this epidemic is not just a matter of a few people. So the whole nation has to play a role.
While the government institutions have to fulfill their responsibilities, the active role of the media and people associated with it is also very important in this regard. The Ministry has proposed several measures in this regard which can prove to be very effective in dealing with this evil. The Ministry of Religious and Interfaith Affairs emphasized that while there is a need to discourage such content through the media, public awareness regarding the relevant laws of Pakistan and the government-level management of obscene content is also very important. .
So that the public should be very careful regarding any such content. It was also highlighted that the media should also conduct a special campaign for parents in this matter that the responsibility of parents is the highest in the current situation. Parents who provide mobile, laptop and internet facilities to their children. Also, keep an eye on what their children see on social media, lest they go down the wrong path in ignorance, and do not go as far as insolence through pornographic videos.
Special attention was also drawn to the fact that in this era of social media and print media, the message of the Prophet's biography containing humanity, decency and good morals should be presented in a very effective and effective manner, through written, speech, small clips, etc. In form, especially the manners and virtues of the Messenger of Allah, may Allah bless him and grant him peace, should be presented in different languages so as to highlight the exemplary aspects and examples of the peaceful and respectable personality of the Messenger of Allah, peace and blessings of Allah be upon him. Waslam can be used to generalize.
Programs related to the biography of the Prophet (peace and blessings of Allah be upon him) should be telecasted so that this insolence can be well answered by presenting the character of a true Muslim by adopting the Prophet (peace and blessings of Allah be upon him) in worship, ethics, affairs and socializing. The media was urged to spread awareness of the seriousness of the rightful use of freedom of expression and the seriousness of offending and hurting the followers of any religion in the guise of it. Public opinion should be moderated to declare insulting religion, religious sanctities and personalities as universally unacceptable practices.
Of course, religious extremism and violence will also be blocked in this way, while globally, especially in the West, measures should be taken for the true interpretation of Islam to prevent the growing trend of Islamophobia, and in this regard, the opinions and ideas of scholars should be used. should be done
The Ministry of Religious Affairs also drew attention to the importance of raising awareness about insulting holy things and personalities with the cooperation of law enforcement agencies and religious figures so that people guilty of such crimes should be punished. What severe punishments are there in the country's laws for
Similarly, this education and awareness should also be created so that in case of any such incident, instead of taking the law into their hands, the people should try to ensure action according to the law. Do not take the law into your own hands by coming into extreme emotions, provocation and any provocation.
The Ministry advises the public that if any offensive content is seen anywhere in the social media, do not share it or forward it to anyone, but email it to PTA https:/complaint.pta.gov.pk/RegisterComplaint.aspx Or report immediately to FIA via email [email protected] or helpline 786-345-111-051 or Ministry of Religious Affairs and Interfaith Harmony via address r[email protected] or WhatsApp number 3332555-0306 .
The news is published by EMEA Tribune & Associated Press of Pakistan