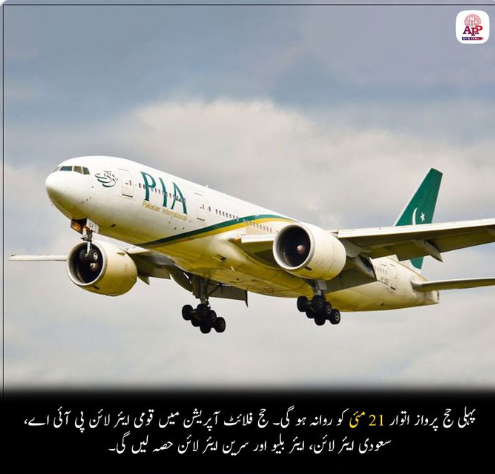 Islamabad. May 16 (APP): The Ministry of Religious Affairs has announced a flight operation to bring the pilgrims of the government scheme to the Holy Hijaz for performing Hajj, according to which the first Hajj flight will depart on Sunday, May 21. According to the spokesman of the Ministry of Religious Affairs, the national airline PIA in the Hajj flight operation.
Saudi Airlines, Air Blue and Sirin Airlines are participating, pre-Hajj flight operations will continue until June 19, the first 12 days of Hajj flights will be direct to Madinah. According to the spokesman, 82 thousand people will perform Hajj this year under the government scheme. Federal Minister for Religious Affairs Senator Muhammad Talha Mehmood inaugurated the booths of national banks providing services to pilgrims at Haji Camp Islamabad on Tuesday. On this occasion, he directed that the staff of national banks should not take any effort to serve the pilgrims because the pilgrims are the guests of Allah, it is the duty of all of us to provide services to them, by ensuring the provision of maximum facilities to the pilgrims. Prayers should be taken.
The spokesman says that the first Hajj flights will depart from Islamabad and Karachi, after which they will start going from 10 major cities of the country including Karachi, Lahore, Quetta, Peshawar, Islamabad, Sialkot, Multan, Faisalabad and other cities. The process will continue for a month. According to the spokesperson, the immigration of the pilgrims of the government scheme under the Road to Makkah project will take place in Islamabad.
The news is published by EMEA Tribune & Associated Press of Pakistan